'They said to each other, "It is a spirit that perhaps has smelt our broiling venison and wishes to eat of it; let us offer some to her." They presented her with the tongue; she was pleased with the taste of it and said: "Your kindness shall be rewarded; come to this place after thirteen moons, and you will find something that will be of great benefit in nourishing you and your children to the latest generations." They did so, and to their surprise found plants they had never seen before, but which from that ancient time have been constantly cultivated among us to our great advantage. Where her right hand had touched the ground they found maize; where her left had touched it they found kidney-beans; and where her backside had sat on it they found tobacco.'
-Benjamin Franklin quoting the Susquehanna Indians in Remarks Concerning the Savages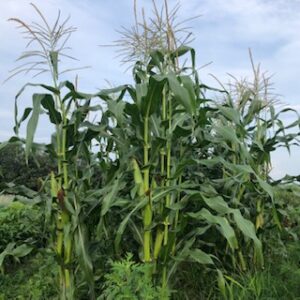 Farm News:  This is the next to the last week of spring/summer CSA.  So, If you are a half share, this is your last week:(
I have been in Blowing Rock, NC with my family.  Mother and Father, Brother and Sister in Law over the weekend.  And obsessively worrying about the sweet corn.
It seems sweet corn is of no use to most animals until it is absolutely and perfectly ready.  Then, all of a sudden, night time becomes a raccoon party in the corn field.  Day time becomes crow show.  Not to mention ear worms and some kind of black flea beetle I can't seem to control.  I asked my friend Brad Swancy at Riverview Milling a few years ago – what eats corn and piles the shucks all in one place?  He said, I think that's a bear.  REALLY?  I questioned his reply until I saw a bear in the road on my way home a few weeks ago.  SO…
What's in the Bucket:  Sweet Corn!  Well, I'm promising it for today anyway….lions and tigers and BEARS!  Holy Tomato Batman.  Yes, this is tomato week.  The bulk of them are coming in now.  Also, Edamame, a pepper? maybe, still summer squash and zucchini, onions and….you guessed it….potatoes.  No potato famine this year.
I'm sure you have potatoes and onions stacked up by now.  Remember – they both store better in the dark.  I have heard you are not supposed to store potatoes in the refrigerator -but I'm not sure why.  I typically store them in a paper bag under the counter.  They like it to be dark. If they sprout it's not big deal.  Just pluck the sprouts off and continue as usual.
The cherry tomatoes have been a disappointment.  I fed them to the chickens last week (who, I will say, had no complaints).  They split as soon as you pick them and you end up with a bucket of fruit flies and tomato goo.  UUGGGGH.  Jennifer picked them last week and had a much better attitude about it – but she did say, "these tomatoes are splitting in real time".
As for zucchini and squash –   Zucchini noodles?  I got a spiralizer a few years ago and that's kind of fun to do once a year.  Roast it, grill it, Zucchini bread?  Lately, I've been making something I call redneck ratatouille.  I LOVE ratatouille – especially Julia Child's recipe.  But our eggplant crop fizzled – and that recipe is a time consuming deal – even if it's delicious.
So, here's how:
Saute 2 zucchini and a sliced or diced onion in a healthy amount of butter.  You can use olive oil to lighten it up – but it won't be as sinful.  Season with salt and pepper to taste.
I usually use a skillet I can stick in the oven – but if you don't have one transfer to a casserole.
Thinly slice beefsteak tomatoes and spread over the top of the squash.  Sprinkle salt and pepper on tomatoes, and maybe some oregano – or chopped fresh basil.  A healthy handful of grated cheese..
put in the oven at 350 degrees until bubbling and cheese is melted.
Serve with crusty bread and/or pasta
Here's another idea.  A shareholder sent me this picture of roasted squash and potatoes.  There may be an onion in there as well.  It's beautiful, one way or the other.  I love the colors and purple potatoes!
Also – a shout out for Main Street Farmer's Market.  It is National Farmer's Market week.  So Main Street Farmer's Market will be hosting guest vendors, and have live music, and have a bingo card for which you can win BIG prizes.  As always – hosted in the parking lot of Chattanooga Brewing.  Be there or be square:)
Happy Eating and thanks for buying local food from Circle S Farm.