"The discovery of a new dish does more for the happiness of the human race than the discovery of a star."
― Jean Anthelme Brillat-Savarin
So excited to have a recipe from Kenny Burnap of Kenny's Sandwiches 1251 Market Street.  Read on to see how he makes this beautiful salad.
Farm News:  This is the last week of summer CSA.  As always, a huge thank you to all of you.  My CSA is my favorite part of farming.    And it's because of you.  Your kindness.  Your pictures.  Your encouragement.  You help keep our farm in business and I am indeed indebted to you.
So – on with housekeeping.  Please leave your bucket out and everyone gets a paper bag this week.  If you signed up for fall veggies, or beef, I will be in touch soon.  Let me get organized:)
Other farm news:  Another thank you going out to Michael at Broadfork Meadows farm.  If you got an egg share – you have enjoyed his precious eggs.
Curtis and I have a small chicken herd and pride ourselves on the beauty of the eggs and independence of our hens.  However, sometimes that is not a great business model – and so we find ourselves short on  chickens and eggs.  Most recently something killed the rest of my young chickens all in one fell swoop.  Broke into one of our houses and ate them all.  So we are grateful for Michael for helping us and providing fabulous eggs for our CSA customers.
What's in the bucket?  or bag as is the case this week:  Sweet corn rescued from the field – summer squash, tomatoes, onions, edamame, purple potatoes and basil.  Lots of basil so make pesto!  Also – maybe okra or eggplant?  or peppers?  Just starting to trickle in.
AND NOW…..What you have been waiting for…..the plated salad recipe!
Kenny Burnap and I have known each other for a long time.  Curtis and I met Kenny years ago when he was working as chef for St. John's restaurant.  We were honored to deliver produce to him at St. John's for quite a while, and now I am thrilled that he has opened his own restaurant.
Kenny is a culinary guru.   I know this for two reasons – I have eaten at St. John's when he was in charge – and eaten at his restaurant Kenny's …every chance I get.  The other reason is, I know how he shops for ingredients.  Your food can only be fantastic if you start with the freshest ingredients.  So Kenny has a relationship with lots of small farms like us, and he stays in touch.
If you haven't eaten at Kenny's Sandwich shop, you need to go.  It is on Market Street – and open for Breakfast and Lunch every day except Monday.   It's a hard decision to make when you look at the menu – so you will keep going back.  Black-eyed pea Falafel?  Brisket Reuben?  or hard to turn down one of the best burgers in town.  Not to mention fabulous breakfast fare all day.  Visit his website to see the particulars www.kennyssandwiches.com
Kenny not only supports local farms with his restaurant, but I was humbled (and honestly a little bit nervous) when he joined our CSA this year.  But he and his family have been generous and kind, as usual.  And I am amazed to think that he is in his restaurant for most of the day, and then comes home and cooks with his family at night.
So, without further introduction, here is Kenny's recipe for a plated salad with your CSA ingredients this week.  As beautiful as it is delicious.
Big Platter Salad (serves 4 to 6)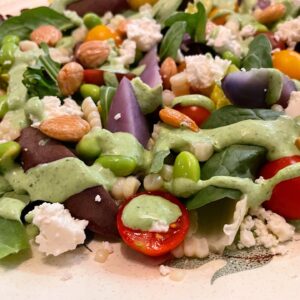 This is a laid back salad made to show off attractive and beautiful tasting produce! Perfect for whatever awesome veggies, fruit, homemade dressings, nuts, and cheeses you have on hand. This salad would also be great with grilled chicken or smoked trout if you wanted to add a meat.
Plating the salad on a platter gives you a nice horizontal surface to present all of the ingredients so they can really be seen. It also helps picky eaters in your family to serve themselves what they want.  My oldest daughter doesn't like tomatoes but loves lettuce and my youngest daughter loves tomatoes but doesn't like lettuce!
Ingredients:
Several Handfuls Mixed Salad Greens
¼ cup to ½ cup Green Goddess Dressing (see recipe below)
¼ cup Marcona Almonds
1 cup Whole Edamame
3 Purple Potatoes
1 cup Cherry Tomatoes
2 ears Sweet Corn
½ cup Cotija Cheese
Method: 
Green Goddess Dressing –
1 cup whole milk greek yogurt
¼ cup whole fat buttermilk
1 cup parsley
1 cup mix of cilantro, chives, tarragon, dill, mint, basil
1 tablespoon diced onion
2 tablespoon lemon juice & ½ teaspoon zest
1 tablespoon extra virgin olive oil
1 or 2 anchovy filets
1 teaspoon capers
1 garlic clove
1 teaspoon deseeded diced jalapeno
Kosher salt & freshly ground black pepper to taste
Blend all ingredients in a bowl with an immersion blender or blend in blender. Taste for seasoning with salt and pepper. Adjust consistency with more buttermilk if needed.
Edamame –
Cook whole in salted boiling water for 3 to 5 minutes. Drain and put in ice water to stop cooking. Pop edamame from their pods into a small bowl.
Purple Potatoes –
Cut potatoes into nice wedges and cook in simmering salted water for 15 minutes or until tender but not falling apart. Drain and let cool on a plate in a single layer. Season potatoes while warm with olive oil, salt and pepper to taste.
Sweet Corn –
If the corn is fresh and sweet, eat it raw! If not, cook corn in the husk on the grill or by steaming. Cut corn off cob and reserve in a bowl.
Assembly & Plating –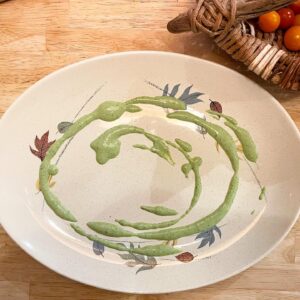 Spoon ⅓ of your dressing on the bottom of the platter in a circular pattern.
Arrange salad greens in a single layer on top of dressing.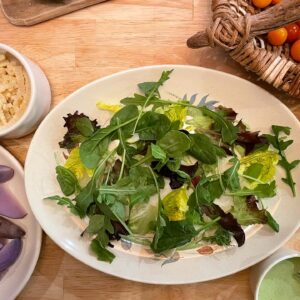 Evenly scatter veggies and cheese across salad greens. Think about shapes and colors here similar to a flower arrangement. Try not to stack or bury the ingredients on top of each other but have them sit side by side and kind of tuck together.
Use the rest of the dressing, spooning in the same circular motion as before.
Then sprinkle marcona almonds on top.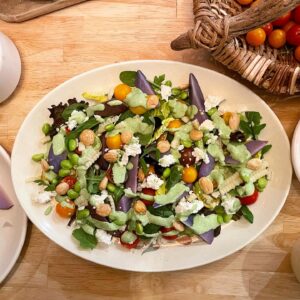 Serve family style and enjoy!
Thanks Kenny!
And thank you all for buying local food from Circle S Farm!
Incoming search terms: