"Ah, September! You are the doorway to the season that awakens my soul… but I must confess that I love you only because you are a prelude to my beloved October."
― Peggy Toney Horton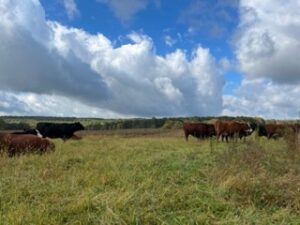 As a farmer, each season brings different chores.  And… like eating seasonal food, I am always ready for the next season.  I am always ready to trade summer squash and tomatoes for lettuce and kale.
But, Fall is my favorite.
Our cows calve in November.  Fall means long walks with the dogs.  Checking cows.  Cooler weather.
Fall is shorter days.  Fall is time to prepare a meal.  Fall is time to read a book.  Fall is foraging for mushrooms, persimmons, walnuts.
Sometimes I am asked about my daily routine.  What time do I rise in the morning?  How long do I work into the evening?  The answer is always daylight until dark.  In the summer, I am weary.  In the winter, I go dormant like a giant tree.  I loose my leaves and gather my energy.  Spring is just around the corner.
Not to say that there are not chores.  Feeding hay.  Fencing.  Things that get neglected during the busy season.  Nevertheless, Fall is a splendid change of pace.
With that being said, this week kicks off our fall blast CSA.  The last of summer, the first of fall.  4 weeks.
What's in the bucket? Green beans, sweet peppers, cilantro, kale, carrots, bibb lettuce, red leaf lettuce, Napa cabbage.
What to cook?
Carrot and Napa Salad with Tumeric and Mustard seed
1/2 lb carrots, washed and peeled

1/2 lb Napa, washed

2 tablespoons olive oil

1 teaspoon mustard seeds

1 teaspoon cumin seeds

1 teaspoon turmeric

½ teaspoon salt

handful cilantro, chopped

handful raw cashews, or roasted salted peanuts, chopped

squeeze of lemon
1 Grate the washed and peeled carrots and set aside in a bowl.  Thinly slice or grate Napa cabbage and add to carrots.
2 Heat a saucepan to medium and add olive oil. Then add mustard seeds, cumin seeds, and turmeric just until you hear the first seeds pop, then remove from heat.
3 Pour the infused oil on the Napa and the carrots. Add salt, cilantro, cashews or peanuts, and lemon and toss.
And
Mayo Clinic Green beans and sweet pepper stir fry
Ingredients
1 pound green beans, stems trimmed
2 teaspoons olive oil
1 red bell pepper, seeded and cut into thin slices
1/2 teaspoon chili paste or red pepper flakes
1 clove garlic, finely chopped
1 teaspoon sesame oil
1/4 teaspoon salt
1/4 teaspoon freshly ground black pepper
Directions
Cut the beans into 2-inch pieces. Bring a large saucepan 3/4 full of water to a boil. Add the beans and cook until they turn bright green and are tender-crisp, 1 to 3 minutes. Drain the beans, then plunge them into a bowl of ice water to stop the cooking. Drain again and set aside.
In a large frying pan, heat the olive oil over medium heat. Add the bell pepper and toss and stir for about 1 minute. Add the beans and saute for 1 minute longer. Add the chili paste and garlic and stir for 1 minute. The beans will be tender and bright green. Drizzle with the sesame oil and season with the salt and pepper. Serve immediately.
Happy Eating, Happy October, and thanks for buying local food from Circle S Farm