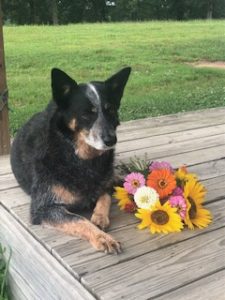 Meet Temple, named in honor of the esteemed Temple Grandin. Temple is as hardworking as they come, always ready to jump in and help with farm chores, whether herding cattle, protecting chickens, checking fences, announcing visitors, or anything else that needs doing. She loves spending late summer days in the shade of the apple trees or under the porch, and is quite the conversationalist – good luck getting a word in edgewise when she gets going. Temple loves her people fiercely, and is the ringleader of the rest of the Circle S gang.
Early in 2019, Temple received a heartbreaking diagnosis of inoperable cancer and was given 3 months to live. Afterward, her Momma doubled down on her already wonderful quality of life and started making dietary / supplemental changes to Temple's daily meals using many ingredients right from the farm. These delicious additions to her nutrition were enthusiastically received by Temple along with her dog friends who also benefited from the mouthwatering recipes.
Temple outlived the timeline outlined by her veterinarian, but, sadly she passed away late in the fall. Her sweet memory remains a strong presence on the farm and in our hearts, and her legacy is the launch of Temple Top Treats, formed from real food, and based on the principle that meals and snacks should be enjoyable, nourishing, and medicinal – and that goes for all of us who eat. Cheers to Temple. Cheers to furry family members everywhere. Cheers to health and happiness!