"Everyone is a moon, and has a dark side which he never shows to anybody."
― Mark Twain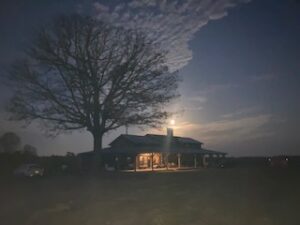 Delivering tomorrow on Halloween Eve.  This quote and picture of the moon seemed fitting.
Perhaps I will hand out heads of cauliflower and broccoli to all the misfortunate trick or treaters….trick or treat?
Well I myself would consider it a treat.  As Broccoli and Cauliflower are two things I look forward to in spring and fall.  Like the beautiful moon.
Farm News:    Our cows will start calving any day now….I have been doing a daily rain dance, but no luck!  Ponds really low, some have run out.
This is the first time I have ever been able to get October beans to actually come in in October:)
Next week is the last week for Fall Blast CSA.
What's in the bucket?  Broccoli, cauliflower, lettuce, sweet potatoes, October beans, peppers.
Following is a NY times recipe for Roasted Cauliflower.  Feel free to throw some broccoli florets and peppers in with the Cauliflower, it will be delicious.
ROASTED CAULIFLOWER
INGREDIENTS
1

pound cauliflower, about 1 medium-large head, trimmed and cut into ¼-inch-thick slices
Extra virgin olive oil, to coat
Sea salt
Coarsely ground black pepper
PREPARATION
Step 1

Preheat oven to 375 degrees. Place cauliflower in a large mixing bowl. Pour on enough olive oil to coat (a few tablespoons). Season generously with salt and pepper and toss gently until evenly coated.

Step 2

Lay cauliflower pieces out on a baking sheet. Drizzle any remaining oil from the bowl on top. Bake, turning once, until caramelized on edges and tender, 25 to 30 minutes. Serve warm or at room temperature, as a side dish. You can also sprinkle it with a very good aged vinegar. Or, cut florets into smaller pieces and add to salads

HAPPY EATING, HAPPY HALLOWEEN, AND THANKS FOR BUYING LOCAL FOOD FROM CIRCLE S FARM.