"Frost kills the flowers that bloom out of season…"
― Henry Wadsworth Longfellow, Michael Angelo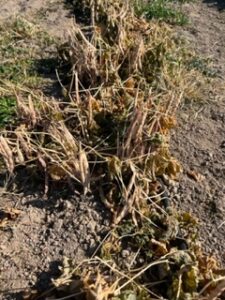 We almost made it!  I was really hoping for a last bucket full of October beans and green tomatoes (or even better, red tomatoes).  I planted these things kind of late, I knew it was a risk.  But what if….
Oh well, lady frost got them all.  And so we are making do with:
What's in the bucket: sweet potatoes, collard greens, savoy cabbage, broccoli or cauliflower, romaine lettuce, leaf lettuce, a green tomato.
A market shopper last week says cabbage just doesn't seem very sexy.  To that I responded "why not?"  Cabbage has lots of good qualities….it stores really well, it is very versatile, it's good for you, and it's delicious.  Just think of all the options….cabbage rolls, cabbage wraps, slaw, cooked cabbage, grilled cabbage, sauteed cabbage, cabbage casserole, cabbage and potatoes, sauerkraut.  Just because it smells funny, don't give it such a bad wrap.  Wrap and roll!
Egg Roll-Inspired Cabbage Rolls (from Eating Well.com)
Skip takeout and try these egg roll-inspired cabbage rolls! Savoy cabbage leaves are stuffed with egg roll filling and baked in a flavorful soy-hoisin tomato sauce.
Ingredients
1 ¼ cups water
3 tablespoons tomato paste
2 tablespoons rice vinegar
2 tablespoons reduced-sodium soy sauce
4 tablespoons hoisin sauce, divided
2 tablespoons minced fresh ginger, divided
4 cloves garlic, minced, divided
½ teaspoon crushed red pepper
2 tablespoons cornstarch
12 large leaves savoy cabbage
2 cups finely chopped broccoli
1 pound lean ground pork
1 ½ cups cooked brown rice
1 bunch scallions, sliced
1 teaspoon toasted sesame oil
Directions
Preheat oven to 400°F. Coat a 9-by-13-inch baking dish with cooking spray.
Whisk water, tomato paste, vinegar, soy sauce, 2 tablespoons hoisin, 1 tablespoon ginger, 2 cloves garlic and crushed red pepper in a small saucepan. Whisk in cornstarch; bring to a simmer over medium-high heat. Cook, stirring, until thickened, about 2 minutes. Remove from heat and set aside.
Meanwhile, bring a large pot of water to a boil. Add 4 cabbage leaves and cook, gently stirring, until softened, 1 to 2 minutes. Transfer to a rimmed baking sheet. Repeat with the remaining cabbage leaves. Place broccoli in a colander and pour the hot water over it. Refresh with cold water. Transfer to a large bowl. Add pork, rice, scallions, sesame oil, the remaining 2 tablespoons hoisin, 1 tablespoon ginger and 2 cloves garlic, and 3 tablespoons of the reserved sauce. Stir to combine well.
Place 1/3 cup filling over the bottom third of 1 softened cabbage leaf. Fold the bottom and sides over the filling and roll up. Place, seam-side down, in the prepared baking dish. Repeat with the remaining leaves and filling. Pour the remaining sauce over the rolls. Cover with foil and bake until an instant-read thermometer inserted into the center of a roll registers 150°F, about 40 minutes.
Peanut-Tofu Cabbage Wraps
Cabbage is a tasty low-calorie stand-in for buns or bread in this healthy, gluten-free lettuce wrap recipe. Don't limit yourself to cabbage for this recipe—any fresh green sturdy enough to wrap around 1/2 cup of filling works.
Ingredients
8 small napa or Savoy cabbage leaves or 4 large, cut in half crosswise
1 tablespoon canola oil
1 14- to 16-ounce package extra-firm tofu, patted dry and crumbled
¼ teaspoon salt
5 tablespoons prepared peanut sauce
1 tablespoon rice vinegar
1 ½ teaspoons lime zest
1 cup julienned Asian pear
1 cup julienned English cucumber
¼ cup finely chopped cilantro
Directions
Wash and dry cabbage leaves well and cut out any tough ribs or stems.
Heat oil in a large nonstick skillet over medium-high heat. Add tofu, season with salt and cook, stirring often, until just golden brown, 4 to 6 minutes.
Meanwhile, whisk peanut sauce, vinegar and lime zest in a small bowl.
Remove the pan from the heat, add the sauce mixture and stir to combine. Serve the tofu in the cabbage leaves, topped with pear, cucumber and cilantro.
Happy last week of Fall Blast, Happy Winter, and thanks for buying local food from Circle S Farm!