"Although the surface of our planet is two-thirds water, we call it the Earth. We say we are earthlings, not waterlings. Our blood is closer to seawater than our bones to soil, but that's no matter. The sea is the cradle we all rocked out of, but it's to dust that we go. From the time that water invented us, we began to seek out dirt. The further we separate ourselves from the dirt, the further we separate ourselves from ourselves. Alienation is a disease of the unsoiled."
― Tom Robbins, Another Roadside Attraction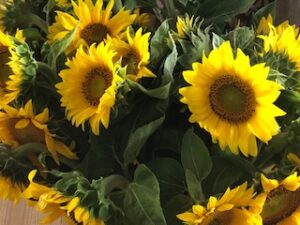 I think I spoke earlier about the soil builder mix we planted to rescue our row cropped dirt.  It contained radishes to rot and build organic matter, sorghum sudan grass to send deep roots into the soil, peas to fix nitrogen, and these beauties.  I'm not sure of their purpose, but I am sure they make people smile when they drive by.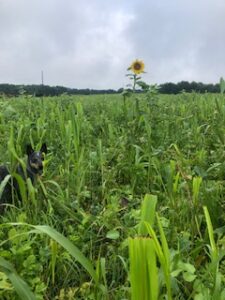 And I know the wildlife love it.  Turkeys, deer and our healthy herd of skunks.  Which brings me to….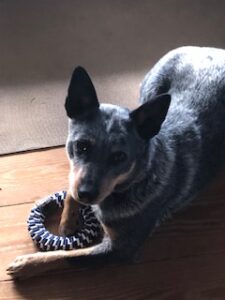 Diamond.  She just couldn't resist.  And why is it always late at night.  It looks like a squirrel but it………smells like a skunk.  I keep telling her squirrels are not nocturnal.
She had a vinegar bath and spent the rest of the night locked in her crate- out of smelling distance:)
On another note, an apology.  Gosh – this year has been strange.  We have had plenty of produce, but it seems repeat and repeat.  I usually have more variety, but it was off to a slow start and I guess I never caught up.  And Jones farm lost their peaches and we lost our Blueberries to late frost – so not much fruit either.  I was hoping for sweet corn this week to break the monotony – but we will have to wait until next week.  I hope the peppers and okra will come in before the CSA is over.  Until then…
What's in the bucket:  Squash and more squash.  Potatoes and more potatoes.  Walla Walla onions.  And the trilogy everyone loves: Basil, Tomatoes and garlic.
So – since the vegetables seem redundant, I guess we have to be more creative with what we do with them.
Last week, I delivered Thomas and Stevie Persinger their share – and picked up my quarterly seafood purchase from Marithyme seafood.   Thomas is a longtime friend.  His parents, Steve and Karen Persinger, were some of my founding CSA members and are also good friends.  They have a beautiful farm themselves, Rising Fawn Gardens.  They grow tumeric, ginger, and medicinal herbs.
And Thomas has a business selling ethically and sustainably sourced seafood.   Check out his website www.marithymeseafood.com.  Which brings me to my point.
Thomas is the kind of guy who can land an airplane on the Alaskan sea.  And yet when I walked in last Monday afternoon, he is cooking.  He has his 2 toddlers, Henry and Arthur in their high chairs.  Henry and Arthur each have a wild caught salmon fillet in one fist and a potato pancake on the tray.  Their dog, Shug, is waiting for something to fall to the floor and Thomas is standing over a skillet with 4 more golden brown potato cakes on the way.  Thomas's explanation – we made mashed potatoes and I hate leftovers.
Stevie and I both agreed, Henry and Arthur have it made (not to mention, Shug)
And so, in thinking about the repetition of potatoes (among other things) in your CSA – I thought maybe I would ask Thomas for his recipe.  I would suggest you make a double batch of mashed potatoes so you can enjoy them mashed, and a few nights later, enjoy the cakes!  I would also suggest serving with a wild caught Salmon fillet from Marithyme seafood!  Here's the recipe in his words – but he also suggested adding a little milk or chicken broth to left over or cooled mashed potatoes to loosen them up.
Potato Cakes
I use left over mashed potatoes but you could make them specifically for the cakes.
Mashed potatoes, 4 servings
Boil 6 whole medium sized potatoes, skin on, until fork tender
Mash until smooth
Add 2 Tbsp butter
1/2 cup milk
Salt and pepper to taste
Stir until smooth, adding more milk if needed to get a smooth consistency
Potatoes cakes
Cooled mashed potatoes
1 egg
1 Tbsp dried chives, parsley, and dill or 1/8th cup of each if using fresh herbs
1/2 tsp of both garlic powder and paprika
**time saver/ life hack: use 1/2 pack of dried ranch dressing powder instead of combining above dried herbs and spices
1 tsp salt
Mix all ingredients thoroughly
Heat a cast iron skillet over medium heat. Add 1-2 Tbsp olive oil. Once shimmering, add a heaping tablespoon of mix to skillet and lightly press down to create a pancake shape, 1/2" thick.
3-4 will fit in a medium sized skillet. Allow to brown, if you flip to early they sometime fall apart. Cook in batches, add more oil in between batches.
Cook 3-4 minutes per side.
Happy Eating and Thanks for buying local food from Circle S Farm.