"You must give to get, you must sow the seed before you can reap the harvest." -Scott Reed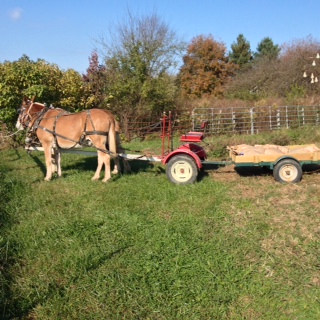 I am STILL harvesting sweet potatoes.  The mules helped me drag in the last of them today – and I will cure them when I get the others out of the curing room.  Which YOU are helping me do this week as they are going in CSA buckets.
I have to admit – other than the sweet potatoes and pumpkins – I am a little disappointed in my fall harvest.  I did sow a lot of seeds – but the harlequin bugs got the better of me and damaged all of my broccoli harvest.  They are also working on the cauliflower and collards.  I don't have a good solution for them, and have not had an infestation like this in years.  My lettuce transplants I planted over a month ago and they are just sitting there – not growing at all.  Maybe everything was stunted by getting hit by the hailstorm a few weeks ago.
What's in the bucket this week?  Radicchio, kale, small butternut squash, beets, purple sweet potatoes, mustard/turnip or collard greens, cilantro and my favorite – cobbler jam.  A piece of blackberry cobbler in a jar!!  I give this to my family for Christmas every year and they ration it down to the last spoonful.
Following, a recipe for kale and radicchio salad.  I think you could substitute the cilantro for basil.
Kale and Radicchio Salad
Ingredients
4 cups finely julienned kale, cleaned and stems removed
2 cups finely julienned radicchio, cleaned and core removed
1/4 cup extra-virgin olive oil
1 lemon, juiced and 1 teaspoon zest
1/2 cup shaved Pecorino Romano, plus extra for garnish
1/4 cup dried currants
2 tablespoons finely sliced fresh basil
Kosher salt and freshly cracked black pepper
1/2 cup toasted walnuts
Directions
Toss the kale and radicchio with about half of the oil, lemon juice and zest in a large glass mixing bowl. Let stand about 2 minutes. Add the Pecorino, currants, basil and the remaining oil, lemon juice and zest. Thoroughly mix. Season with salt and pepper. Set aside.
Fold in the walnuts just before serving and top the salad with a pile of Pecorino.
Happy Eating and thanks for buying local food from our Farm!!