"One benefit of Summer was that each day we had more light to read by."
― Jeannette Walls, The Glass Castle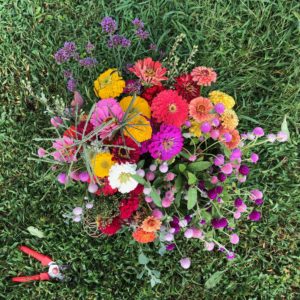 Ahh – the long days.  I really don't love them.  I am ready to go to bed usually by 8:30 and it is still light.   Some nights Curtis and I have to wait for the chickens to go to bed – often not until 9,  dusk.
A lovely day at the creek yesterday.  The water is low – but still cool.  A good respite from the summer heat.
Farm News:  Two more weeks of CSA.  Our black rat snake has finally reappeared.  Good because the mice have been having a hay day in the hay barn.
What's in the bucket? Broccoli, sweet corn, cherry tomato, potato, fennel, cucumber, green cabbage, basil.
Following a recipe for
CHILLED FENNEL GAZPACHO
from Genius Kitchen
Fabulous, refreshing soup that can be served warm – if in cold weather – from Delia Smith ​​**cooking time does not include chilling time**
1 1/2 lbs tomatoes or cherry tomatoes
fennel bulb, large
1 teaspoon salt, coarse
1 teaspoon coriander seed
1 teaspoon peppercorn, mixed colors
tablespoon olive oil
1 small onion, chopped
1 garlic clove, crushed
1 tablespoon balsamic vinegar
1 tablespoon lemon juice
3⁄4 teaspoon fresh oregano, chopped
1 teaspoon tomato paste
skin tomatoes, and chop roughly.
trim the green fronds away from the fennel (and save them for a garnish).
cut the bulb into quarters.
trim away a little of the central stem at the base and slice the fennel into thin slices.
place these in a saucepan with a little salt and measure 2 cups of water.
bring to a simmer, cover, and simmer gently for 10 minutes.
meanwhile, crush the coriander seeds and peppercorns (in a mortar & pestle) heat oil in large saucepan and add crushed spices, along with chopped onion.
let these cook gently for 5 minutes, then add the garlic and cook another 2 minutes.
add balsamic vinegar, lemon juice, tomatoes, and oregano.
stir well, and add fennel (and the water).
finally stir in the tomato paste, and bring everything to a simmer. simmer gently, uncovered for about 30 minutes.
after simmering, puree till smooth. let cool, cover, and chill for several hours.
garnish with fennel fronds.