"Freedom lies in being bold."
― Robert Frost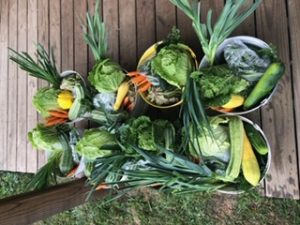 The vegetables are bold, aren't they?  Bold in their color, bold in their taste – some of them.   I wonder if they feel free?
Happy Independence Day!!
Farm News:  Otis got skunked.  The only dog that doesn't know.  He has never been skunked.  He couldn't get any back up – no dogs to go with him.  Nevertheless – he was BOLD and he got skunked!!  A bath of hydrogen peroxide and baking soda toned the smell down!!
What's in the bucket:  radish, arugula, fennel,  shell beans, green cabbage, sweet corn, potatoes.
We are probably all hoping for a wonderful cookout for Fourth of July.  Include some cool coleslaw – with your BBQ.  And some corn on the grill – yum.  Potato salad….
I have an easy slaw recipe – from my mother.  I always use it – but do not have measurements.   I will try to tell you how.
Fourth of July Cole Slaw
Cabbage
Mayo
Apple Cider Vinegar
Sugar or honey
Salt and Pepper
With a large sharp knife slice the cabbage thin, thin, thin.  This is the key.  Add other thinly sliced veggies or grated carrot.  Fennel works nicely too.  Then mix your dressing.  Mayo, enough apple cider vinegar to make it a dressing and sugar, salt and pepper to taste.  Guestimate how much you need – but you can always make more…..
I make this for Curtis and I sometimes on a weeknight – and only enough for two.  Other times, I use the whole cabbage and make enough to share and for leftovers.  Simple and flexible.
Happy Eating and Happy Fourth of July.  AND thanks for buying local food from our farm.
Letty