"If you pick up a starving dog and make him prosperous he will not bite you. This is the principal difference between a dog and man."
― Mark Twain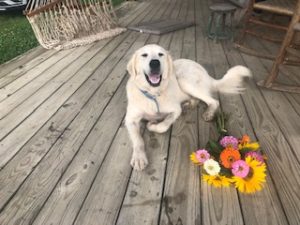 Jennifer came to work 2 weeks ago and told me she saw a dog at the end of our driveway.
Ghost made appearances almost every day after that.  We ran her off – thinking she might kill our chickens.  I kept thinking she was someone else's dog because she always acted like she was going somewhere.  She ran up and down our road, several miles in each direction, until the pads on her feet bled.  We finally decided we needed to feed her before she starved, but as soon as we tried to retrieve her, she became elusive.  So Curtis named her Ghost – here one minute, gone the next.
After a few days, of putting food out for her – he finally managed to reel her in.  She has been on our porch ever since.  I carried her to the vet – we tested her for heart worms and she seems healthy.  They would not vaccinate her because she was so thin.  We have been feeding her well, and will take her back soon to get her fixed and up to date on all vaccinations.  She is a big dog – 65 pounds at starving weight – so I expect she will be 75-80 pounds at a healthy weight.
We are looking for a home for Ghost.  We already have three dogs.  Two are dogs that we have taken as rescue dogs.  The other is my Blue Heeler, Temple, who has cancer and needs our attention.  If you know anyone who wants a sweet, beautiful dog, please pass this along.  We will want to talk to them to make sure it will be a good home.  She has been through too much to be passed around.
Farm News:  Find Ghost a home.  She has not chased our cats or chickens.  She seems pretty sociable, and hasn't been aggressive to our dogs – but did snap at our friend's small Mountain Feist.
This is the last week of CSA.  I will bring your veggies in bags so I can retrieve all my buckets.  Please remember to leave your bucket out or bring it to market.
What's in the Bucket?   Tomatoes, cherry tomatoes, basil, peppers, green cabbage, red, white and blue potatoes.
If you are looking for a way to use those purple potatoes up – how about some gnocchi?  Chop some cherry tomatoes, basil and garlic add some olive oil and you have a nice sauce for your gnocchi.  Call it dinner:)

Simple but exceptionally satisfying – Making Potato Gnocchi from scratch only requires 3 simple ingredients and are guaranteed to make a stunning dish everyone will absolutely love.
Author: The Petite Cook
Recipe type: Main
Cuisine: Italian
Serves: 6
Ingredients
1 kg floury potatoes (Russet, Yukon Gold, Vitelotte, etc)
300gr plain flour + extra if needed
1 small free-range egg, beaten
a pinch of sea salt
Instructions
Boil the potatoes whole and unpeeled until fork-tender, about 20-30 minutes.
Cut each potato lengthwise, and using a spoon, scoop potato flesh into a ricer fitted with the finest disk. Press the potato flesh onto a clean work surface, spreading it into an even layer, and season with a pinch of salt.
Mix in ½ the amount of the flour, then add ½ the egg and knead. Repeat one more time, kneading the dough gently, and incorporating the remaining flour until you the dough reaches a soft but compact consistency.
Slice a small portion of dough and gently roll into a thread about ½ inch thick.
Cut the thread into 1-inch thick logs, then make an indent with your index finger and roll each gnocco on a gnocchi board, or "mark" them on the tines of a fork.
Transfer gnocchi to a well-floured baking tray and repeat with remaining dough.
Cook gnocchi in lightly salted soft-boiling water, for 1-2 minutes until they rise on the surface,
Spoon them out with a slotted spoon, mix them with your favorite sauce and serve.
if you don't intend to boil the gnocchi right away, you should freeze them in a single layer (see notes), and then drop them frozen directly into the boiling water when needed.
Notes
To freeze gnocchi: Simply line them up on a baking sheet, pop them in the freezer for a few hours, then divide them into freezing bags and store them back in the freezer until needed.
Happy Eating – thanks for buying local food from Circle S Farm!!