"I bought a big bag of potatoes and it's growing eyes like crazy. Other foods rot. Potatoes want to see."
― Bill Callahan, Letters to Emma Bowlcut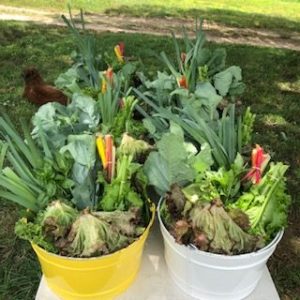 One potato, two potato, three potato, four!!  More…..More.
Everyone loves potatoes.  When my potatoes start coming in, it feels like summer is really here!
Farm News:  Summer is here!  We have passed the longest day of the year, so we are on the downhill side.   We only have 4 weeks left of CSA in this short season.
What's in the bucket?  Leeks or red onions, POTATOES, lettuce OR arugula, giant zucchini!! (see recipe for zuc -canoos below.), carrots, cucumbers, NAPA or green cabbage, green beans or fresh shell beans
Giant zucchini also make great noodles (consider getting a spiralizer) and/or zucchini bread.
Recipe follows from Genius kitchen
Zuccanoes
Preheat oven to 375°F.
Scoop out the insides of zucchinis to leave 1/2 inch rim. Chop innards into tiny bits and saute in butter with onions and garlic until soft. Salt and pepper to taste. Remove from stove top, set aside.
In a large bowl combine eggs, cheeses, parsley. dill and flour. Drain zucchini and add to the large bowl with egg and cheese mixture. Mix until combined. Fill zucchini cavities and dust top with paprika.
Bake for 30 minutes or until filling solidifies.
Thanks for eating and thanks for buying local food from Circle S Farm!!