"This little old dog.  A heartbeat at my feet."  -Edith Wharton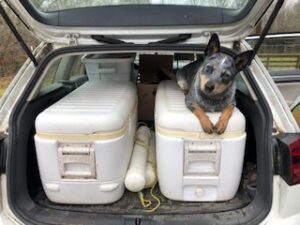 This is Diamond.  My new right hand girl.  She is over a year old now and still a handful.  But always with me.  And she wants to be good.
In wintertime, we feed cows together, fence together, do errands together, sit by the fire together, sit on the porch together, work calves together, wherever I am, there she goes.  I notice her absence more than her presence.  And I know from my former canine companions, as I still feel their absence every day, that this is part of being a dog.
In summer time, it is hard to explain to her that, now, she has to stay home.  She can't go to deliver with me, or go to the Farmers market with me.   It is hard to leave her.  And the picture above was taken in one of these moments.  How do you explain to the "heartbeat at your feet" that she can't go with you?
Farm News:  Spring is approaching.  We had a dusting of snow last night.  Seeds are ordered and plans are taking shape for spring/summer.  That being said, the CSA deadline for sign up is looming March 1.  You can navigate from here to our CSA sign up page if you are interested.  Read about it, and sign up with the form and send it in.  Delivery is free to Lookout Mountain, St. Elmo, Downtown Chattanooga and North Chattanooga.  You can also pick up at Main Street if you are not in our delivery area.
Or, follow this link and sign up on our online store my-site-101402-102716.square.site
We will have Temple Top Dog Treats for sale this Wednesday at Main Street Farmers Market for the Winter Farmacy.
As always, thanks for buying local food from Circle S Farm!