"To country people Cows are mild,
And flee from any stick they throw;
But I'm a timid town bred child,
And all the cattle seem to know."
― T.S. Eliot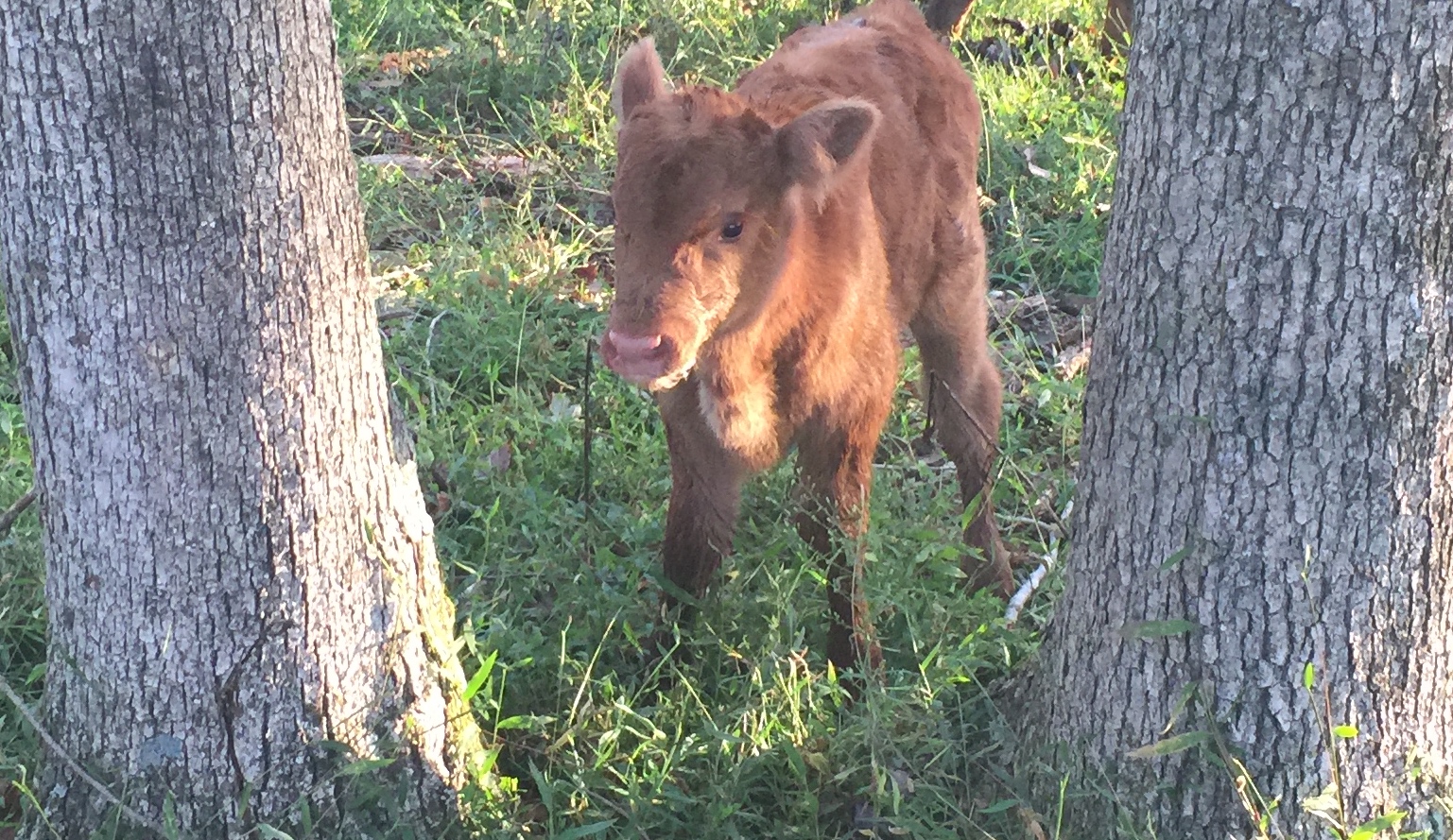 We are calving now.  We had 5 new calves this morning – and every morning and evening is dedicated to checking and documenting our new mothers and calves.
We had a rough start this year.  Two sets of twins right off the bat – all 4 were born dead or barely breathing.  We lost them all, and are still listening to the mourning mothers call for them.
Our first two breathing calves somehow ended up on the outside of our perimeter fence – and we (Curtis really – and his strength) had to shove them back through the fence to their panicked mothers.
We have one cow that has it out for me.  We named her Goggles because she has two black eyes.  Of course, she had to be one of the first cows to have a calf.  Now, anytime she sees me she has a bull's eye (or shall we say a cow's eye) on my mortality.  She snorts and paws the ground if I come within eyesight of her calf.  If she happens to not know where her calf is, then she runs at me like I did something with it, or hid it from her.  It keeps my adrenaline going, and inspires me to get in shape so I can out run her!
Farm News:  I will be at market through the end of October, and have extended my CSA shares through October 25.
What's in the bucket:  Radicchio, Fennel, Broccoli, Green Cabbage, Arugula, Beets, Parsley, Collard Greens, Apples.
What's at market? Radicchio, Fennel, Broccoli, Green Cabbage, Turnip Roots, Beets, Radishes, Collard Greens, Kale, Arugula, Spinach, Parsley, Basil, Cilantro.  Circle S Beef:  Sold Out for 2017.
Radicchio is sometimes not a crowd pleaser.  If you don't love a bitter taste – you may prefer to eat it in small doses, or to roast it or grill it which sweetens it a bit.
Wikipedia says "Pliny the Elder claimed 'radicchio' was useful as a blood purifier and an aid for insomniacs in Naturalis Historia. In fact, 'radicchio' contains intybin, a sedative/analgesic, as well as a type of flavonoid called anthocyanin which is used for making dye-sensitized solar cells."
Radicchio, Fig and Apple Slaw
For the walnut dressing

2 3/4

ounces

walnuts (75 grams)

, toasted

2

tablespoons

clear honey (42 grams)

3 1/2

fluid ounces

light olive oil (100 ml)

1

tablespoons (6 ounces or 170 grams)

red wine vinegar (15 ml)

Salt and freshly ground black pepper

For the radicchio salad

2

red apples (Gala, Fuji, or your favorite, 355 grams)

Good splash of apple juice (1/4 cup)

1

large

head of radicchio (325 grams)

, cut into rough strips

8

small

figs (300 grams)

, cut or torn into quarters

3 1/2

ounces

creamy cow or goat cheese (150 grams)

, crumbled or sliced

3/4

cup

green cabbage finely shredded with a knife
DIRECTIONS
Make the walnut dressing
1. Put the toasted walnuts, honey and half the oil into a food processor and blitz on a high speed until the mixture is fairly smooth. Careful not to overmix as it may become too thick to dress. Add the remaining oil and the vinegar and blitz again. Season the dressing with salt and pepper to taste.
Make the radicchio salad
2. Core the apples, then slice them finely. Put them into a large bowl and cover with the apple juice, which helps to prevent oxidation.
3. Just before serving, toss the apples, radicchio and figs together with some of the walnut dressing in the bowl. Transfer the mixture to a shallow serving plate and finish with the cheese and cabbage. Drizzle over the remaining dressing to serve.
Happy Eating and thanks for buying local food from Circle S Farm!