'Rejoice with your family in the beautiful land of life.'  —Albert Einstein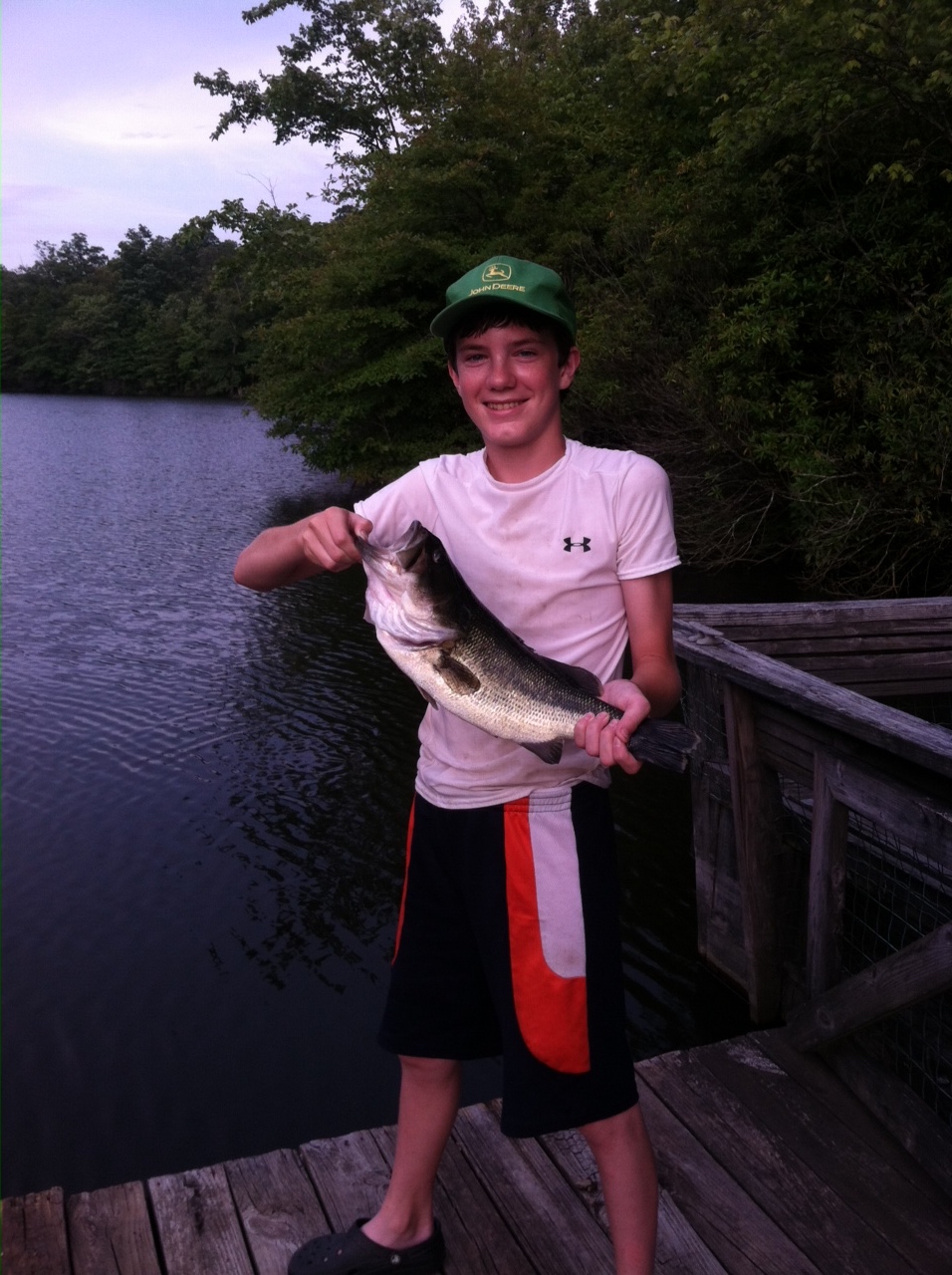 Logan is coming to visit for a few weeks.  When he was little he would stay most of the summer.  Now he is almost 19, in college, has a job – and probably a girlfriend, so we don't get to see him as much.  Rejoice is an appropriate word.  This picture was taken probably 4 years ago when he went fishing with our friend Steve Persinger.
We are approaching the end of the summer CSA (this is the last Wednesday – one more Monday).  If you are interested, I am having a fall CSA which starts labor day and runs into November.  Sign up info is on the website under CSA sign up – just click on the link twice.  We also have beef packages available.
What's in the bucket (it will be a paper bag this week – REMEMBER TO LEAVE YOUR BUCKET OUT OR BRING TO MARKET:  Tomatoes Tomatoes Tomatoes – red ones, green ones, yellow ones, romas, cherry – you get the picture, melon, winter squash, okra and whatever else I can find!
At Main Street Farmer's Market:  Tomatoes, cherry tomatoes, potatoes.  Circle S Beef.  Hamburger helper special:  Buy one package ground beef get one heirloom tomato FREE!!
Tomatoes are easy to freeze – just peel and freeze.  I've also heard of not peeling and freezing, but haven't tried it.  Dip them in boiling water to peel, then just pull the skins off, cool and freeze in jars or freezer plastic bags.
Enjoy a delicious Caprese salad with some of your home grown Circle S tomatoes.
Caprese Salad
INGREDIENTS
2 pounds vine-ripened tomatoes (about 4 large), sliced 1/4 inch thick

1 pound fresh mozzarella, sliced1/4 inch thick

1/4 cup packed fresh basil or arugula leaves, washed well and spun dry

1/4 teaspoon dried oregano, crumbled, if using arugula instead of basil

3 to 4 tablespoons extra-virgin olive oil

fine sea salt to taste

freshly ground black pepper to taste
PREPARATION
On a large platter arrange tomato and mozzarella slices and basil leaves, alternating and overlapping them. Sprinkle salad with oregano and arugula and drizzle with oil. Season salad with salt and pepper.
Thanks for buying local food from Circle S Farm!!