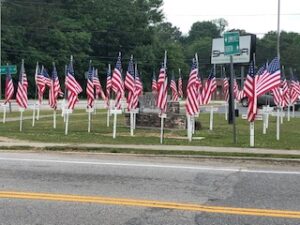 "Patriotism is supporting your country all the time, and your government when it deserves it."
– Mark Twain
I always love traveling through our small town of Menlo before Memorial day.  It is moving to see the flags, and the names on them, and to realize the price so many have paid.    And I believe Mark Twain is right – your country all the time.  And what is a country without the people?   ALL the people.
I thought I would include these pics of building soils for our crops.   The garden gets at least 3 years rotation, cover crops and grazing help fertilize the food we eat!  Stay tuned for next week's conversation with Ranger, the cow….
Farm News:  We lost 6 chicks last night.  I guess too cold?  I thought they were old enough – but maybe they are getting to big to all fit beneath the hen that is raising them.  They are over a month old and starting to feather out.  We put a heater in for them tonight.  Fingers crossed.
As far as the garden, the heat and then  chill is confusing.  I'm thankful for the rain and cooler temperatures.  However, don't be surprised if your radishes are not uniform in size.  things tend to take a turn sometimes with crazy weather.  Let's hope the broccoli doesn't bolt!
What's in the bucket (or bag):  young onions, kale, arugula or kale mix, turnips and baby potatoes, radishes, green and red lettuce, chard, oregano and yes – yay- Roy (Jones Farm) has agreed to one more week of Strawberries!  Circle S has a few strawberries we will throw in the mix too.
What's at market?  mustard greens, collard greens, kale, arugula, turnips with greens, lettuce, red and purple daikon radish.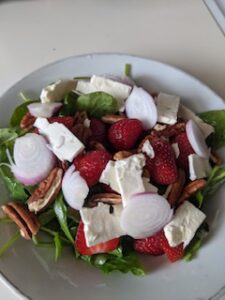 And lastly – to inspire your Memorial Day eating.  A red white and blue salad?  OK, well maybe red leaf lettuce, red strawberries, white cheese, and purple (could count as blue) onion.  A share holder sent me this picture of her salad last week.  YUM.  No recipe needed:)
Happy Eating.  Happy Memorial Day.  And thanks for buying local food from Circle S Farm!