"How did it get so late so soon? It's night before it's afternoon. December is here before it's June. My goodness how the time has flewn. How did it get so late so soon?"
― Dr. Seuss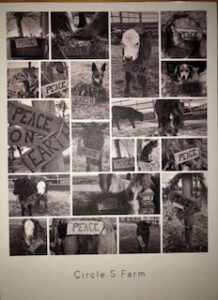 Finally – better late than never, the Holiday Card is here.  If you read back 2 posts, you will see this was a be continued….. Our card this year was supposed to be our 3 bottle calves lined up with "Peace on Earth"  around their necks.  As with most things in farming, that did not go as planned:)  So here is what the Circle S Crew came up with this year.  We hope you had a Merry Holiday and a Happy New Year.
Farm News:  wintertime brings different chores than summer.  Feeding animals hay, fixing fence and tending to things around the farm that are neglected in our busy season.  We have finished calving, 65 calves this year.  It is one of my favorite things – to go listen to the cows eat and watch the calves run and romp and play.
Jennifer has been busy helping me with fencing chores here on the farm, and making Temple Top Dog Treats for our favorite friends.  Because, of course, we should all be well treated!  Our winter schedule will be the 2nd and 4th Wednesday at Main Street Farmer's Market.  You can pick up your Temple Top Dog Treats then and there~
Thanks to all of you for your support this past strange year.  Let's hope 2021 gets us all back to less masks and more hugs.  Thanks for buying local food at Main Street Farmer's Market.  Happy Eating!