I cried, "Mistake–forget the the steak.
I'll take the chicken then."
I heard a cluck–'twas just my luck
The busboy was a hen.
I said, "Okay no, fowl today.
I'll have the seafood dish."
Then I saw through the kitchen door
The cook–he was a fish.
I screamed, "Is there anyone workin' here
Who's an onion or a beet?
No? Your're sure? Okay then friends,
A salad's what I'll eat."
They looked at me. "Oh,no," they said,
"The owner is a cabbage head."
— Shel Silverstein
What a beautiful thing.  All those onions hanging together!  My friends know I am an onion lover.  And they have been social distancing me for years.  Most say an apple a day – I say onion.
I have always known that alliums were anti-viral.  With the outbreak of Covid-19 an herbalist friend sent out an e-mail saying one thing that would help prevent the virus from entering the body was to chew on raw garlic.  Music to my ears because – you guessed it – I love garlic too!
I recently read that one of the tactics practiced to prevent the Spanish flu from spreading was to leave a raw, cut onion out in every room.  Apparently they discovered that it would draw the virus out of the air and trap it.  They actually saw the virus collect on the open face of the onion when using a microscope.
So – true or not- YAY FOR ONIONS!!  They need some good press:)
Farm News: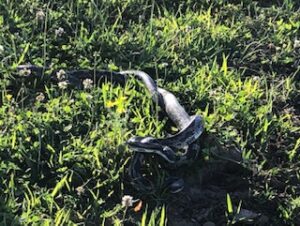 Freddie has a friend.  I guess that's what it is – it didn't seem like an enemy.  I don't know much about snakes, but I'm wondering how long it will be until we have little Freddies.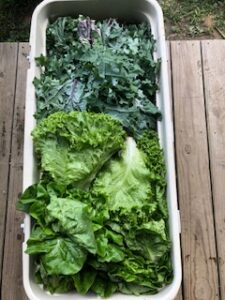 We delivered a total of 95 # of much needed produce to the Food Bank last week.  3 coolers, 100 bunches of greens, 25 heads of lettuce and some beets and kohlrabi.  Thanks to everyone who contributed, we had $235 to help with labor and delivery.  We will be doing periodic deliveries when we have a bounty of produce, and will let you know next time in case you want to contribute.
What's in the bucket? Promise – last week for Kohlrabi.  Also: cabbage or Napa cabbage, beets, broccoli, Swiss chard or lacinato kale, bibb or Romaine lettuce, sugar snap peas, Walla Walla young onions (YAY!), fennel bulb and parsley or oregano.
Just remember – Kohlrabi will do anything cabbage will do.  Slaw, kraut, steamed….
I have a handful of things I call kitchen sink recipes.  Really, it amounts to what I have in the refrigerator or garden.  Soup, salad, stir fry and pasta.  I can make all of these with, basically, whatever raw vegetables I have (and the noodles and brown rice I keep on hand).  Of course ONIONS (YAY) and garlic help everything.
This week – I would make stir fry.  Broccoli, kohlrabi, onion, maybe a few thin slices of cabbage, snow peas.  Put all of these in the wok with some high heat oil and stir fry on high until tender.  Add some soy sauce, red pepper or sesame seeds.  Serve over rice and call it dinner.  You can also add leftover meat that you have in the fridge.  Just stir fry it first until it's crispy – then do the veggies separate.
AND
a salad.
Romaine or bibb lettuce, steamed beets, caramelized fennel and onion and blue cheese.  I like to do the beets in my instapot because it's easy – but you can steam until tender.  Then – while still warm, slice them and drizzle a little local honey over them.  Toss.  When they cool – a splash of balsamic.  Drizzle some of the leftover beet juice over them to make a dressing.  Caramelize the fennel and onion in a skillet.  Be patient and start the fennel first – it takes longer.  Let everything cool.  Serve over greens topped with blue cheese.  Add whatever other veggies are in your fridge:) Heaven!
Happy Eating and thanks for buying local food from Circle S Farm!