"You should never hesitate to trade your cow for a handful of magic beans." -Tom Robbins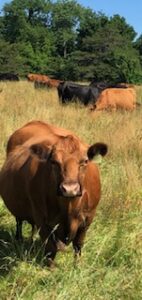 Back to my conversation with Ranger, the cow.  As an aside, she was named Ranger for her ability to crawl through our electric fence and go wherever she wanted – thus Free Ranger, or Lone Ranger…
My Dad is well read and dedicated to keeping me in the loop.  In other words, educating me out of my farm bubble.  And lately – there have been numerous articles on plant based meat.  The Impossible burger.  The Beyond Burger.  I love the names.  And, in recent news – for the environment, we need to replace our Holy Cow with fake meat.  (Not to be a hypocrit, I love a veggie burger including the above mentioned).
So I told Ranger.  Girl, your days are numbered.  General consensus says, you are bad for the environment.  And she says, ME?  What about YOU?
In a perfect world, there would be no fences.  Our grasslands in the midwest are full of amazing topsoil as a result of grazing herds of Bison.  But instead – we thought it was a great idea to fence our lands and plant corn.  And then cram thousands of animals into tiny spaces and feed them corn – chickens, cows, pigs, turkeys etc.  And it's a wonder something like the corona virus hasn't come from our treatment of animals in tight quarters.  Not to mention antibiotic resistance.
The truth is – often when the conversation comes up, someone says "well how are we going to feed the world?"  And what I don't understand is – why do we have to?  Why can't we just feed our community?  And others feed their communities?
This is what small farms do, and do well.  Typically, small farms have plenty of diversity.  More than one kind of livestock.  More than one kind of crop.  Sustainability and health comes from rotating livestock and crops.  Cover crops feed cows, cows fertilize soil.  Cattle pastures include perennial grasses which grow even in winter in some climates.  Grasses which, when managed correctly, sequester carbon and store water.  Most small farms also have a woodlot.  Their owners care about clean water and healthy animals because they are living amongst them.  And yet we struggle to make ends meet.  The supply chains and infrastructure, not to mention the government subsidies,  leave the cards stacked against small farms.
While big companies farm millions of acres and use a staggering amount of fuel and inputs to make monoculture crops and animals grow, small farmers could be the answer to many problems.  80 percent of our beef in the US comes from industrial farms controlled by 4 companies, Tyson, Cargill, JBS USA and National beef.  To me, that's a little scary.   We have learned how fragil our current system is during the pandemic.  And what about Cyber attacks?  (Fairly certain Circle S will not be sought out as a cyber attack target, we barely have a computer and still are struggling to learn social media).
So – for me, I'll stick with my cow and forgo the magic beans – even if I do have a veggie burger now and then.  And, FYI, the manufactured veggie burgers are a highly processed food.  They are high in sodium, and, in general, not as healthy for you as a local hamburger – pasture raised and cared for at Circle S Farm.
Farm News:  OK – so I'm off my soap box.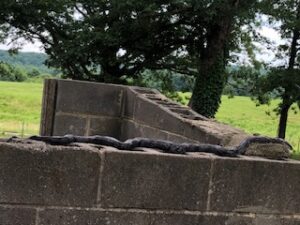 Freddie is back and apparently putting a dent in our egg supply.  I have almost stepped on her/him twice and had to rush one day to beat him to the chicken house.  Lucky to have Michael at Broadfork Farms as back up this year on eggs!
What's in the bucket?  OK – so I'm embarrassed to say we are still into greens and things.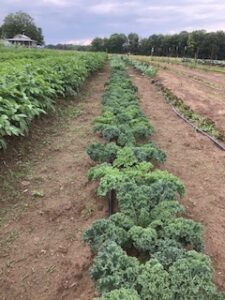 While the kale is loving this weather, apparently the beans I planted were not magic.  They are taking their own sweet time.  So are the squash, fennel, etc.  So- I'll try to give you a week off of onions – but roots and greens are the thing right now.
*Kale (promise, last week)  collards or chard, red potatoes (yay – glorious spuds), cilantro,  turnip root, daikon root, and a lotta lettuce.
What's at market:  onions, kale, collard, chard, turnip, daikon, red potatoes, cilantro, a lotta lettuce, Temple Top Dog Treats.
Curtis and I have been loving a frittata lately.  Here's how:
Saute a couple of those roots with a healthy dose of olive oil in a large iron skillet or nonstick that can go in the oven – a mix of turnip and potato and daikon grated with a large grater.  Enough roots to thoroughly cover the bottom plus some.  And enough oil that it won't stick – especially if using an iron skillet.  Season with salt and pepper to taste.  Remove from heat when near done.
Cover roots with some veggies and cheese – doesn't matter what.  Last night I used chopped onion, chopped kale and gruetli cheese from Sequatchie Cove Farm.  Cilantro would be a nice touch.  Beat 6 eggs until frothy with a large pour of cream or half and half (this is optional) and season with salt and pepper.  Pour over cheese and veggies making sure to press veggies in until they are covered.
Bake until done – a knife comes out clean at 350 degrees.  About 45 minutes to 1 hour.  Serve with chopped cilantro, a lotta lettuce:) or massage some shredded kale with olive oil, salt and pepper as a side.
Happy Eating and thanks for buying local food from Circle S Farm.