"But there's a story behind everything. How a picture got on a wall. How a scar got on your face. Sometimes the stories are simple, and sometimes they are hard and heartbreaking. But behind all your stories is always your mother's story, because hers is where yours begins."
― Mitch Albom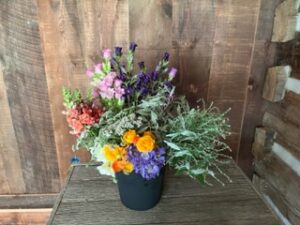 Happy Mother's Day!
Although I am not a mother myself, I have a Mother.  I guess everyone does… and I am celebrating her today, even though we are not together.  And celebrating the joy that comes with having a lovely, beautiful and devoted Mother.  And her story is where mine begins.
Here on the farm we are witness to many births every year.    Curtis and I love calving season, in the fall.   And while we try not to hover or interfere, there is nothing like watching a new Momma lick her baby calf.
When we move cows we wait for them to "mother up".  That means we wait for the Mamma cows to find their calves so they can move together.   We had a really cold stretch in December this year.  It came early, and we were unprepared.  We couldn't get our tractor to start to feed hay, so we moved our cows into a lot that had stockpiled grass in it.    When we got the tractor going a day or 2 later, one Momma cow wouldn't move.  So unusual, and we couldn't find her calf.  I looked and looked.  So we left her.
Still that afternoon she was there and I looked and looked again and finally found the calf right under her feet almost.  Fallen into a crevasse.  It was overgrown with grass and weeds.  That calf was trying to get warm and fell in.  His mother wasn't leaving.  I don't know how he worked his way so deep into the ground, through the rock shelves, but there was no way of getting him out.   I hadn't seen the cow eat or go drink in two days.  Through my own tears I heard Curtis say "I'm so sorry sweetheart…" to the cow.
It takes a lot for a mother to give up.
Farm News:  The garden is growing and going.  We had to fortify our deer fence this year because they seem to be getting smarter.  So far so good.  We don't have many farm flowers yet, though Holly is working on that.  It's been a cool spring.  So you have a treat….Creekside farm is supplying the flowers this week.  If you haven't met Morgan at Creekside visit them on instagram (creeksideflowerfarm)
This is the first week for CSA – so to those of you who are new….I will leave a bucket on your porch.  You leave it for me the next week (or 2 weeks if you are a half share) and I will exchange with a new bucket.  If you choose to leave a cooler on the porch, I will be happy to transport your veggies etc into the cooler.
What's in the bucket? For some reason we have a Christmas theme this week – red and green.  Should have saved it for Christmas in July.
Red and Green spinach, Red and Green leaf lettuce, Red strawberries (Jones farm), Red and Green onions…see where I'm going with this?  Red snow peas and green snap peas,  and lastly Swiss Chard, cilantro and/or mint, and breakfast radishes (these are pink – finally!)
The spinach is wonderful raw or sauteed.  I tried to give everyone plenty for both.  If using in a salad, you might want to tear into pieces or chop because it is mature spinach.  A spinach and strawberry salad?  Oh the strawberries might not last that long!  You can mix the green and red spinach, they have similar flavors.
The other thing I have been doing lately is roasting the spring onions.  I slice them in half, coat with olive oil salt and pepper and roast at 350 degrees until crispy.  Add some radishes (yes I tried this and it was delicious).  Or really special with some roasted potatoes.  Following a recipe from The Table Together
Roasted Spring Onions
When spring has sprung and spring onions are readily available, run don't walk to your local market and pick up a few bunches. Roasted or grilled and served alongside steak or tucked into tacos, spring onions pack a slight oniony twang with a refreshing level of sweetness! Yield: 4 servings Oven: 425ºF Preparation time: 10 minutes Cook Time: 25 minute
3 bunches spring onions, approximately 10 spring onions in total, bottoms cleaned but the root stem kept intact
2 tablespoons grapeseed or vegetable oil, plus more if needed kosher salt, as desired freshly ground black pepper, as desired
Method: 1. Position oven rack to the top and preheat oven to 425º. 2. Line a baking sheet with parchment paper and set to the side. 3. Generously oil, salt and pepper each spring onion and lay in an even layer across the prepared baking sheet. 4. Transfer to preheated 425º oven and allow to roast, flipping halfway through, until golden brown in color, approximately 25 minutes in total. 5. Remove from oven and serve while hot! Kitchen Note: For a crispy finishing touch, consider combining breadcrumbs with a tablespoon of olive oil and sprinkling on top of the spring onions in the last few minutes of roasting.
Happy Eating and Thanks for buying local food from Circle S Farm