"Well there's a full moon in the western sky
And there's magic in the air.
Ain't nothin' I know of, can make you fall in love,
Like a night at the county fair."
-Chris Ledoux
Whenever I have a giant vegetable I refer to it as a County Fair.  It's a county fair cabbage, a county fair tomato, a county fair pumpkin.  I tell folks at the market – this is your chance.  Buy the county fair turnip!
The idea of the county fair brings back all kinds of memories to me.  For some reason, I've been to county fairs all over the country.  I remember hearing Suzy Boguss at the Teton County Fair in Wyoming.  Rodeo to follow.  And your typical carnival rides and lights.  Magical.
These days I think of County Fairs as funnel cakes and cotton candy, perhaps some 4-H animals.  Maybe some wholesome entertainment.  Curtis and I went to the Chattooga County Fair several years ago.  Chattooga County is still quite agricultural, so lots of kids showing milk cows, sheep etc.  But I wondered what the county fair was like 150 years ago  so…I did the modern thing….I googled it.
"The concept of the "county fair"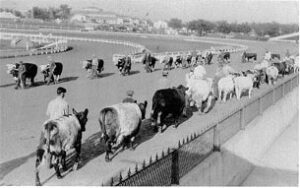 organized by an agricultural society, was initiated by Elkanah Watson, a New England patriot and farmer.  He earned the title, "Father of US agricultural fairs" by organizing the Berkshire Agricultural Society and creating an event (known then as a Cattle Show) in Pittsfield, Massachusetts in September 1811. It was not a market, and was more than just an exhibit of animals – it was a competition, with prize money ($70) paid for the best exhibits of oxen, cattle, swine and sheep.
Watson worked diligently for many years helping communities organize their own agricultural societies and their respective shows (fairs). By 1819 most counties in New England had organized their own agricultural societies and the movement was spreading into the other states. The nineteenth century closed with almost every state and province having one or more agricultural fair or exhibition."  -Fairs and expos.com/ history
I love the photo.  I think I would have loved to live 150 years ago.
With small farms disappearing, and big business and technology booming, I wonder what the future is for the County Fair?  I'm afraid it's not good.
Farm News:  The rain is bringing some county fair items….first of which is the county fair turnip.  Lots of county fair weeds too.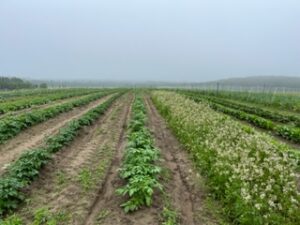 What's in the bucket?  A bit of a repeat from last week.  We had some heavy rain or hail which beat up the red leaf lettuce.  I'm hoping it will recover.
County Fair turnips with greens (there is a lot of food here folks!)  leaf lettuce, young onions, radishes, spinach, spring peas, kale and/or collard greens, Jones Farm Strawberries.
Following a recipe from Farm Fresh Feasts.com.  This is a great site with lots of CSA advice and recipes on what to do with your share!
The following recipe is adapted from Lois Robertson's (of City View Curling Club in Ottawa, ON) Zucchini Crepes recipe via the Potomac Curling Club's Party Party Party Cookbook.  Serve it with the cooked turnip greens – or a fresh cold salad.
Turnip Fritters
3 cups grated peeled turnips (sub 1 cup fresh corn kernels if making turnip-corn fritters)
1 or 2 eggs (mine were on the small side, from junior hens, so I used 2)
½ cup unbleached all purpose flour
½ teaspoon salt
½ teaspoon pepper
1 teaspoon baking powder
1 to 3 Tablespoons cooking oil
to serve: buttery spread, plain Greek yogurt, grated parmesan cheese
In a large bowl, combine grated turnips and eggs until thoroughly coated. Dump dry ingredients on top, and stir to combine (I use a fork). Set aside. Preheat a large skillet over medium high heat, and add about a Tablespoon of oil. When it is shimmery, drop about ¼ cup of batter (I use a large forkful) into the skillet and spread out. When the bottom is lightly browned, flip over and continue cooking the other side. It takes me about 5-8 minutes total to cook each fritter. Transfer to a warm oven to keep them, or just leave them on a plate until all the batter has been cooked. Add another Tablespoon of oil to the skillet as needed. Serve warm or at room temperature.
Happy Turnip Eating!! And thanks for buying local food from Circle S Farm.