"If something cannot go on forever, it will stop."
― Herbert Stein, What I Think: Essays on Economics, Politics, & Life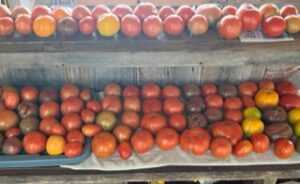 It is the end of the summer CSA session.  And all good things must come to an end.  It's why I love the seasons – each brings an end and a beginning.  And tomatoes escort us out of the summer season.  So you will be getting loads of tomatoes – like last week, to help your feelings.
Farm News:  It is the end of the season!  And I will not be offering a fall CSA this year (remember how traumatic last year was when the cows got in the garden.  I am still waking up in the middle of the night over that!) I will, however,  be at Main Street Farmer's market this fall, so drop by and say hello.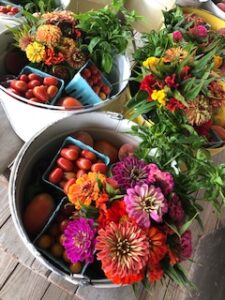 What's in THE LAST BUCKET?  Well it will be a bag!  A paper bag full of tomatoes, onion, winter squash, cucumbers, maybe a melon, edamame, cherry tomatoes and basil.
OK – I thought I had seen every tomato pie.  But this one caught my eye.  It is pretty much how I make tomato pie but I never put the slices of tomato and basil on the top after it comes out of the oven.  Brilliant!  Because the tomatoes are gorgeous and a shame to hide them.  Also – I love the little cherry tomatoes mixed in.  I put a few in my pie and they added a sweet note.  A great way to end the season, thanks to Paula Deen:)
We are right in the middle of tomato season, and, boy, are we loving it! Tomatoes are so bountiful, juicy, and flavorful this time of year, so, naturally, we love to find recipes that let a good, ripe tomato shine this time of year! There's no better dish to showcase these fresh tomatoes than a tomato pie, so we thought we'd share with y'all how to make a traditional Southern Tomato Pie!
First up, grab your ingredients. You'll need the following:
1 (9-inch) pie plate
1 (9-inch) baked pie crust (Make your own pie crust or pick up a pre-made pie shell from your grocery store.)
2 tablespoons Dijon mustard
4 tomatoes, peeled & sliced (Use your favorite tomatoes—roma, beefsteak, or on-the-vine or really dress it up and use a variety of colors and sizes of beautiful heirloom tomatoes!)
Salt
Freshly ground black pepper
4 ounces grated white cheddar cheese
4 ounces grated yellow cheddar cheese
½ cup mayonnaise
⅓ cup freshly grated Parmesan cheese
Once your ingredients are prepped and together, preheat your oven to 350˚F. Place your pie crust into your pie pan and then spread the inside of the pie crust with the Dijon mustard.
Next up, layer in half of the tomatoes (pro-tip: save the prettiest slices for later) before sprinkling them with a little salt and pepper, to taste. Now top the seasoned tomatoes with both the white and yellow Cheddar cheese. Paula likes to grate her own, but if you're looking to save time, the already shredded cheese in the bag works just as well.
Next up, you're going to mix the mayonnaise with the Parmesan cheese before spreading it over the top of the pie. This step adds the creaminess that is so important to a Southern tomato pie.
Now you're going to bake the tomato pie for approximately 20 minutes. Once it's bubbly, remove it from the oven and let it cool completely. Lastly, you'll top it with the remaining, tomato slices. This will be the top of the pie, which is why we like to save the prettiest slices for the end.
And that's it folks—just serve it at room temperature with anything from burgers and ribs to fried chicken and pork chops. We love serving this traditional Southern Tomato Pie recipe at brunches, picnics, bridal showers, and barbecues. It's such a versatile summer side dish!