Definition of freedom
1: the quality or state of being free: such as
a: the absence of necessity, coercion, or constraint in choice or action
b: liberation from slavery or restraint or from the power of another : INDEPENDENCE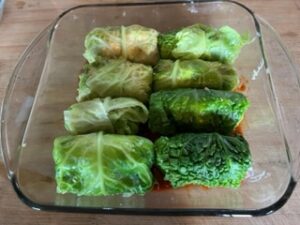 Happy Independence Day everyone.   I have had a very Independent food week.  It started with these cabbage rolls, then some red, white and blue potatoes – all equally delicious, and onward to blackberry pie.  Oh the choices we have…..
Farm News:  Rain showers and weeds.  Thankful for the rain but not the weeds.  Big tall thorny stalks that bite when you walk through to harvest cabbage or potatoes.  Trying to keep things under control but….
We weaned 20 steers, so a noisy start to the holiday weekend.  The good news, we could not hear the fireworks.  Neither did the horses or dogs!
What's in the Bucket:   Something old:  onions, fennel, green beans, red, white and blue potatoes…..something new: savoy cabbage, carrots.  I try to keep things changing – but I tend to over plant some things.  Things I love….Onions.   Things Jennifer loves….potatoes.  I can't explain the cabbage:)  I guess I just want one of every kind – Napa, green, savoy, purple….
So in wondering what to do with all the cabbage I had to revisit the cabbage roll.  I had a customer at the market who bought savoy cabbage every week we had it.  She loved cabbage rolls.  She gave me her recipe but I found it to be kind of bland.  Ground meat wrapped in a cabbage leaf and smothered in tomato sauce.  It was not something I wanted to revisit.
So, in rethinking it, I wanted to get excited about it.  Add a little spice…..so, how about cabbage roll enchiladas.  I came up with a plan.  It turned out delicious (even Curtis said so…although he covered his in BBQ he brought home so I'm unsure his opinion really counts unless you have BBQ).    But, this recipe is all about FREEDOM!  So put BBQ and/or whatever else you please in them and enjoy….here's how!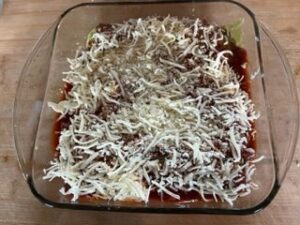 1.Remove 8 leaves from your savoy cabbage.  Clean them and steam them or lightly boil.  I cut the thick part of the center rib out first to make them easier to eat and to roll.
2. Make a filling.  I used leftover brown rice, sauteed yellow squash, some broccoli I still had in the fridge, onions (of course).  Stirred it all together and added some sour cream and ground cumin.  Cilantro would be great but I didn't have any….seeds didn't come up this year.  I had the thought that leftover mashed potatoes would be quite sinful….next time.  And of course, if you are Curtis, maybe pork BBQ or ground pork or ground meat…if you want extra protein.  Or add beans (does rice and green beans count as a protein? I'm unsure)  maybe black beans.
3. Roll the filling in your cabbage leaves.  Like a burrito, make it like an envelope and roll it up.  If your cabbage leaf busts a hole, you can take a piece off another leaf and patch it.
Cover and smother in your favorite sauce.  I made some enchilada sauce, but store bought would work well too.  Or BBQ sauce.  Or marinara sauce.  I am a big fan of a little kick – so make it spicy if you are game.  Then I topped with grated cheese.
Bake at 350 degrees until it is bubbling and the cheese is melted, about 30 minutes but don't burn the cheese on top.
This dish can go so many ways – and it is gluten free.  You could stuff leaves with ricotta and high end mozzarella for a mock cannelloni.  So, let me know what you come up with and how it turns out!
A CSA member also shared this delicious recipe for fennel salad with me.  I will pass it along.  It would go well with mock cannelloni if you go that road….  This will be the last week of fennel, so I wanted to make sure you had the chance.
Fennel Salad with Citrus Dressing
Happy Independence Day!  Celebrate Freedom of Eating!  And thanks for buying local food from our Farm.