"If there are no dogs in Heaven, then when I die I want to go where they went."
― Will Rogers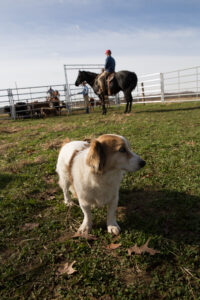 He came to us one stormy night in April.  Curtis was getting ready for a trip.  Curtis and his horse were going to help work cattle in Missouri.  Curtis tried to run him off.  Tried again.
He was tired and lame.  He had been traveling.  He was looking for a safe place to layover and wait out the storm.    I said, just put him in the utility room.  I'll let him out tomorrow.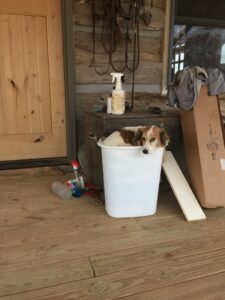 But he piled up on a pasteboard box and slept for 3 days.  He didn't want to eat or drink or go out, he just wanted to rest.  When he woke up, our journey began.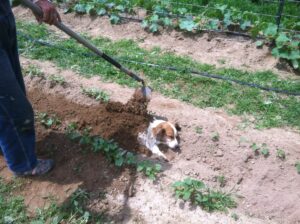 He was a ramblin' man.  But he always came back to us.  And eventually, he quit leaving.  We named him Otis after the man who sold us the farm, who passed away shortly after selling it.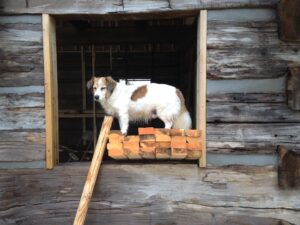 Otis loved to run, and dig, and pluck feathers from the chickens… which we discouraged him greatly from doing.  He loved to be held.  He loved to jump in your lap.  He and our cat Lucy had coffee with Curtis every morning, both in his lap.  He made friends.  He made us laugh.  And he brought so many years of comfort and happiness in his presence.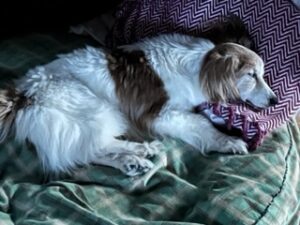 Towards the end, he wasn't able to do the things he used to.  He loved to eat.  He loved to nap.  But every day he would leap into the air at least once as if to say, I am still here and the world is a beautiful place.   I kept hoping he would sprout wings and fly up to heaven instead of having to suffer.  I imagine that is what happened…he just needed a little help from us.
He has friends on the other side of the rainbow.   He was the last of a generation.  He stayed on to help raise Diamond.  I hope she realizes…I know she misses him too.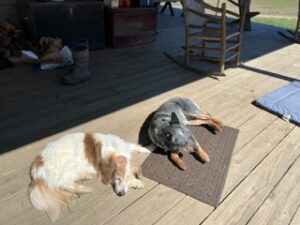 Farm news:  Hard weekend, saying farewell to one of our pack.  Lots of tears, but joy too in remembering.
What's in the Bucket:  Sweet corn from Jones Farm, red cabbage, October beans (you must shell these – they look like cannelini beans with a little color when shelled) carrots and/or beets, basil, bay leaves from my friend Daisy's tree, a few cherry tomatoes, maybe a cucumber or pepper.  A wayward summer squash.  Some summer things just getting started!
I crave salads when it gets so humid and hot – but lettuce is out of season.  Following a great vegan recipe.  Very colorful and delicious.  Use October beans instead of canned beans – cook until tender first and cool.  I think you could make some other substitutions or omissions if need be and this will still be good.
Sweet Corn and Cabbage Salad
Source: 21-Day Vegan Kickstart The colors and textures will seduce you even before you taste this salad's sweet, cooling flavors. Because the flavor gets even better with time, it's perfectly portable.
About the Recipe 170 Calories · 8.6 g Protein · 8 g Fiber Dinner Gluten-free · Nut-free
Ingredients Makes 4 Servings
red onion, diced (1) Mexican gray squash or zucchini, diced (2) cucumbers, peeled and diced (2) small tomatoes, diced (4) medium red cabbage (1/4) stalks celery, sliced (4) kernels from 4 ears corn (about 3 cups) sea salt (pinch) fresh lime juice (2 tbsp.) tomatillos, diced, optional (4) fresh cilantro, chopped, optional (4 tbsp.) red beans, rinsed cooked or canned, optional; or sauteed tempeh, optional (2 cups) Swiss chard leaves, sliced, optional (2 cups)
Directions 1. Prep ingredients by dicing the onion, zucchini (try Mexican gray squash as a substitute for the zucchini), peeled cucumbers, and tomatoes. Slice the cabbage and celery, and remove kernels for the corn cobs. Mix all ingredients together in a large bowl and allow the salad to marinate for at least 30 minutes but preferably 2 hours. You can forgo this step and eat the salad right away, though the flavors won't be melded quite as much. 2. Options: If you use the tomatillos, peel away the papery part and make sure to wash them before cutting; this removes their sticky outer film and makes them much easier to handle. You can also use frozen corn in this recipe, though it will lack the crispness and sweetness of fresh corn. Want to make this a meal in itself instead of an accompaniment? Add cooked beans or sauteed tempeh and you'll have a delicious dinner in minutes. Nutrition Facts Per serving Calories: 170 Protein: 8.6 g Carbohydrate: 35 g Sugar: 10 g Total Fat: 1.8 g      Calories from Fat: 8.8% Fiber: 8 g Sodium: 132 mg
Happy Eating and thanks for buying local food from Circle S Farm