"Birds of a feather flock together"  English Proverb
Flock…definition
noun:  1. a number of birds of one kind feeding, resting, or traveling together.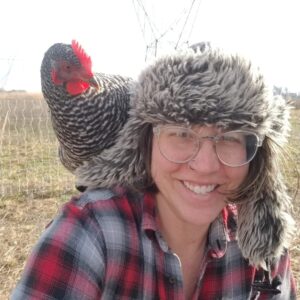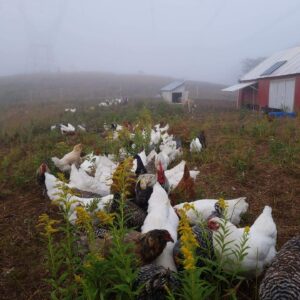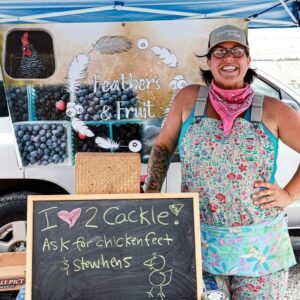 Meet Jessie…
She and her flock are helping us and our flock provide eggs to you this summer.  Michael at Broadfork meadows sold me his chickens and we are still coming up short.  My CSA loves their eggs!
At any rate, I am thankful for Jessie and her flock.  She vends at Main Street Farmer's market with me (and is President of our Board.)  She has been a farmer friend for a while.  So seems fitting we should be including her happy flock's eggs in our buckets!  And I wanted all of you to get to meet her via computer if not in person.
Farm News:  BOUNTY OF PRODUCE.  I will overload the buckets this week….
What's in the Bucket?  Fennel, Daikon, Broccoli ….again?….yeah!  green cabbage, Texas sweet onions, green beans, purple and white potatoes, Turnip root and beets.
Intimidated by roots? Shred those roots and saute them up like hash browns.  Though fennel is not technically a root, it can act like one!  Kraut…you have all you need.  Cabbage plus fennel, daikon, onion, broccoli, you choose.  Fermenting can be lots of fun.  Google that:)
As for me, I will be making all of the above plus the following fennel and broccoli salad….easy and delicious.
Happy Eating.  Happy Roots and thanks for buying local food from Circle S Farm.
Shaved Broccoli and Fennel Salad with Goat Cheese
The combination of creamy goat cheese, fresh herbs, thin and crunchy vegetables with rich olive oil, lemon, and a little salt is addictive. If you have a mandoline, it's great to use it here.
© Sarah Bolla