"Trees that are slow to grow bear the best fruit."
― Moliere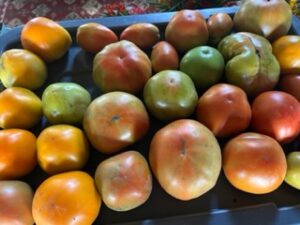 Let's hope this is the case for tomatoes.  The trees are loaded with fruit that will not turn red.  So much so that I have started eating them green.  Patience.
Farm News:  The tomatoes will not turn red!  I will be sending you red and green ones this week!  And – the horses broke into the garden.  Well, I say broke in.  There was a crack in the gate.  This happened last fall except it was 80 cows instead of 2 horses.   Perhaps I get negligent at the end of my season?   Luckily, horses don't like cucumbers or tomatoes.  They do like sweet corn – but the racoons, japanese beetles and crows beat them to most of that!
I am getting peaches from Roy at Jones Farm tomorrow to go in the CSA shares.  They have been so delicious.  Something to look forward to!
What's in the bucket? Tomatoes, green tomatoes, cherry tomatoes, giant patty pan squash (perfect for stuffing!), pickling cucumbers, edamame soy beans (steam and shell) or field peas (shell),  okra or hot peppers, Jones farm peaches.
What have I been doing with the green tomatoes? you ask.  Making enchiladas of course….my favorite.  But fried green tomatoes are always good.  Look back in the blog for the fantastic Texas pickled green tomato recipe from last year.
I found the following recipe online for green tomato enchilada sauce and it is divine.  Great on eggs – huevos rancheros, or chicken or cheese enchiladas.  I'm going to freeze some.  I think it would also be delicious swirled into some potato soup, or grits.
Recipe follows:
Ingredients
1 tablespoon vegetable oil
1/2 medium onion, chopped
2 cloves garlic, chopped
1 7-ounce can whole green chiles, drained and chopped
1 pound green tomatoes or tomatillos, chopped (about 2 1/2 cups)
1 teaspoon ground cumin
1/2 teaspoon dried oregano, preferably Mexican
1/2 teaspoon kosher salt
1 cup vegetable broth (or 1 vegetarian bouillon cube dissolved in 1 cup hot water)
1/2 cup water
1/2 cup fresh cilantro leaves
Instructions
Heat the oil in a large skillet set over medium-high heat. Add the onions and sauté until translucent, about 5 minutes. Add the garlic and sauté until fragrant, about 1 minute more. Stir in the green chiles, green tomatoes, cumin, oregano, salt, broth and water. Bring to a simmer and cook, stirring occasionally, until the tomatoes break down and the mixture becomes saucy, about 10 minutes. Pour the mixture into a blender or food processor, add the cilantro and purée until smooth.
–From Linda Faus, former FOODday test kitchen director
Holy Green Tomato, Batman!
Happy Eating, and thanks for buying local food from our farm!