"If you hear 'I will show you pepper', you are very fortunate. If he shows you his pepper, show him your tomatoes; he shows you his ginger, you show him your onions. With these ingredients, you are on your way to becoming friends on spicy pot of stew."
― Vincent Okay Nwachukwu, Weighty 'n' Worthy African Proverbs – Volume 1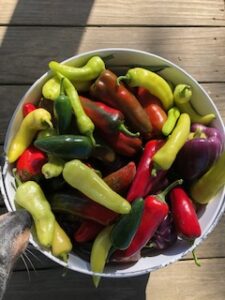 I didn't even see Diamond's nose in this picture until I put it in the blog.  What a nosy girl she is!
I love fall peppers.  They turn in all their glory, like the trees, into fabulous colors.  And they smell fantastic.   I am also a lover of spicy food – so I make them into hot sauce, pickled peppers, salsa.  And fall is a time when the days start to get shorter.  I have a little more time to prepare a meal – and seem to enjoy it without a daunting season of farming ahead.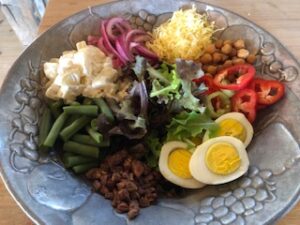 This is my latest dish of choice.  I sort of get hung up on a dish sometimes.  Curtis will roll his eyes when I pull this out of the fridge tonight.  It has been a staple.  The side dishes change, but nevertheless….
This salad has lettuce mix in the middle.  Then potato salad, blanched green beans, pickled onions, Sequatchie cove cheese, walnuts, chickpeas, sweet peppers and boiled Circle S eggs around the side.  But I have been getting creative with the proteins and grains.  Long grain rice and any kind of bean works great.  Also – salmon or chicken.  Salty olives or smoked trout is an excellent addition.  It is basically a glorified chef salad – but I love that all of the good stuff doesn't end up in the bottom of the bowl.  And Curtis and I will eat on this salad for several nights – so it keeps better than tossing everything together I think.
Farm News:  our cows will start calving any day now….more on that next week.
What's in the bucket?  Stored onions, Russet potatoes, garlic.  And from the garden: sweet lettuce mix, arugula, kale, mustard greens, sweet and hot peppers, green beans, maybe a small patty pan squash.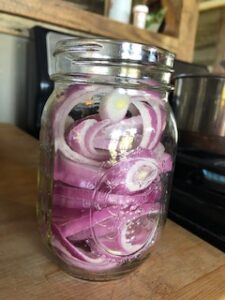 If the storage onions are to tough for you, pickle them.  Boil either white vinegar or red wine vinegar.  Add a pinch of salt and other spices or a bay leaf if you wish.  Pour the vinegar over the onions.  Let them cool and refrigerate.  They are fantastic on salads, burgers etc.  (and less likely to give you the halitosis:)
Happy Eating and thanks for buying local food from Circle S Farm.