"In a world that was not easy for Alice to bear or understand, flies were the final and malicious burden laid upon her."
― John Steinbeck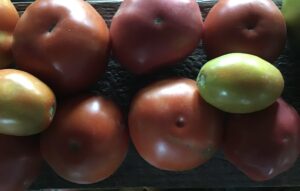 It is finally tomato season.  The thing everyone waits for.  They are trickling in…. but the first one is always the best.
I think of July as fly season.  Nothing worse than to have your hands busy picking vegetables and be attacked by biting bugs!  The horses run when they are under attack.  Oh, if I could run fast enough to get away!  Not sure I could ever run that fast.  The cows pack up – travel in a tight herd.  They must knock them off each other with moving tails and feet.  But I worry that they are miserable like I am.
Farm News:  4 weeks of CSA left.  It's been a different year – as they are all different.  I've been doing this a long time, and I am still surprised and humbled every year.  Just when I think I know something….
For instance, I planted summer squash this spring.  It got sick and stayed sick and poorly until I had a meager harvest.  I planted a second succession about a month later.  Same varieties, same circumstances, same garden dirt – and it flourished.  Giant green leaves shading beautiful and loaded plants.   I have quit trying to figure it out:)
What's in the bucket:  Tomatoes!  Yay.  A few, next week more.  And guess what else?  Potatoes.  Yes not nearly as exciting – but I have a new recipe to share.  cucumbers, onions, summer squash, and basil.
As for the cucumbers – I know they are overwhelming.  I'm usually not a lover of the big pickling cucumbers, but I found a new recipe for refrigerator pickles.  Nice because you can use the bigger picklers, and slice them in wedges.  If you have dill leftover from last week, here's your chance!  If not, dill seed will work as a replacement.  Make sure you use the pickling cucumbers – the shorter, fatter cucumbers with whiter ends.
Recipe follows – from Once upon a chef
Quick & Easy Refrigerator Pickles
Refrigerator pickles are quick and easy to make — no sterilizing jars or special equipment required.
INGREDIENTS
1-1/4 cups

 

distilled white vinegar (5% acidity)

3 tablespoons 

kosher salt

2 tablespoons

 

sugar

2 cups 

cold water

1-3/4 to 2 pounds

 

Kirby cucumbers (about 6), cut into halves or spears

2 tablespoons

 

coriander seeds

6 large 

garlic cloves, peeled and halved

1 teaspoon

 

mustard seeds

1/4 teaspoon

 

red pepper flakes

16 

dill sprigs
INSTRUCTIONS
Combine the vinegar, salt and sugar in a small non-reactive saucepan (such as stainless steel, glass, ceramic or teflon) over high heat. Whisk until the salt and sugar are dissolved. Transfer the liquid into a bowl and whisk in the cold water. Refrigerate brine until ready to use.
Stuff the cucumbers into two clean 1-quart jars. Add the coriander seeds, garlic cloves, mustard seeds, red pepper flakes, dill sprigs, and chilled brine into jars, dividing evenly. If necessary, add a bit of cold water to the jars until the brine covers the cucumbers. Cover and refrigerate about 24 hours, then serve. The pickles will keep in the refrigerator for up to one month.
AND  as far as the potatoes
I made this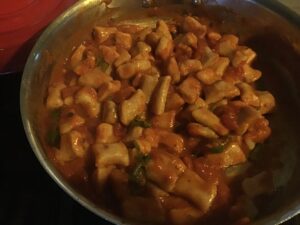 Gnocchi.  It was fairly easy and overwhelming all at once.  But it turned out delicious (even Curtis loved it)  I used Russet and white potatoes mixed – and put them in my pressure cooker instead of boiling them – just to make it easier.
The recipe is from anitalianinmykitchen.com
Ingredients
FOR THE GNOCCHI
1

 

pound 

potatoes

 

(clean but not skinned / not new potatoes)

1

 

cup

 

flour

 

(130 grams)

1/2

 

teaspoon

 

salt

1

 

medium

 

egg
SAUCE
2

 

tablespoons

 

olive oil

 

(40 grams)

1/2

 

teaspoon

 

salt

1

–

2

 

cloves

 

large of garlic chopped

1

 

teaspoons

 

oregano

5

 

leaves

 

basil chopped (or 1 teaspoon/3/4 gram dried)

 

or 1 teaspoon/3/4 gram dried

2

 

dashes of hot pepper flakes (if desired)

1

 

can pelati tomatoes with sauce

 

(1 1/2 to 2 cups / 400 grams), nothing else added in the tomatoes

1/2

 

cup

 

water

 

(170 grams)
Instructions
GNOCCHI
In a large pot boil potatoes until tender, remove from the pot and let cool  remove the skin. Then pass through a potato ricer.

Mix together the flour and salt and place on a flat surface, make a well in the middle and add the potatoes and egg, mix together with your fingers to form a soft dough, it should not stick to your fingers. On a lightly floured surface, cut small amounts of dough to form ropes and cut into 3/4 inch (2 cm) pieces, then slide each piece on a fork and squeeze a little (but not too hard). Sprinkle with a little bit of flour and toss, so they don't stick together. Let the gnocchi rest for 20 minutes before cooking.
TOMATO SAUCE
While the gnocchi are resting make the sauce.  In a large saucepan add olive oil, tomatoes, salt, garlic, oregano, basil, hot pepper flakes and water, stir to combine, half cover and let simmer over medium heat until thickened. Remove cover for the last few minutes to thicken.
COOKING GNOCCHI
In a large pot of salted boiling water cook the gnocchi, gnocchi are ready when they float to the top.  Drain and add to the cooked sauce, add a little pasta water, cook for 30 seconds, gently tossing. Serve immediately topped with fresh grated parmesan cheese if desired. Enjoy!
Happy Eating and thanks for eating local food from Circle S Farm.