"I'm so glad I live in a world where there are Octobers."
― L. M. Montgomery, Anne of Green Gables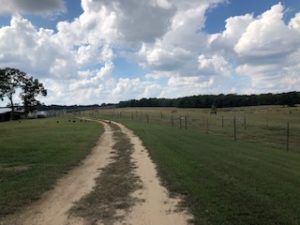 Farm News:  Well, we are finally here.  The last week of CSA for 2018.  Our cows start calving this week, so it's just a shift of attention from garden to animals.  Curtis is baling the last of our hay as I write.  We are hoping for 70 calves this year.  It will be a busy fall:)
I want to thank all of you for your participation in our CSA this year.  Every year I am amazed at how graciously you all accept the successes and failures of the season.  It is a wonderful experience to have such a lovely and loyal group of people supporting our farm!
What's in the bucket:  candy roaster squash, kale, daikon radish, broccoli or cabbage, white sweet potatoes, green roma tomatoes, jalapeno, parsley.
As most of you know, I love spicy food.  The sauce to these green tomatoes adds some kick – but well worth it.  For a milder sauce, seed the jalapeno.
Grilled Green Tomatoes 
Author: Carolyng Gomes
Recipe Type: Side
Serves: 2
Ingredients
2 large sweet peppers, yellow
3 green tomatoes
¼ jalapeño
1 tbsp parsley, finely chopped
1 tbsp vegetable oil
salt and pepper
Instructions
Preheat grill pan on medium heat.
Cut off tops of yellow peppers, quarter and add to grill pan. Cook until charred and softened. Remove from pan and set aside.
Slice tomatoes ¼ inch thick.
Brush one side of slices with oil and lay on grill pan, oiled side down. Cook for 6-8 minutes.
Brush tops of tomatoes with remaining oil and flip.
In a food processor add peppers, jalapeño and parsley. Blend until a sauce forms.
Add salt and pepper to grilled tomatoes. Top with Spicy Yellow Pepper Sauce or serve on the side for dipping.
Happy Eating, Happy fall, and thanks for buying local food from Circle S Farm.