"Although my body was useless, out of what felt like desperation, I acted out a hateful, scathing punishment. There were days when each time I lowered the hoe, I would groan, "Die! Just die and end it! Die! Die and end it all!" I planted 600 sweet potato vines."
― Osamu Dazai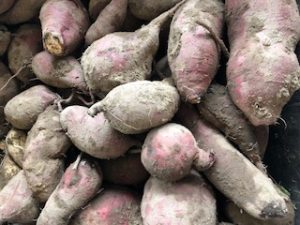 This is how I feel at the end of the season.  Instead of wishing the garden to die, I can't wait to let the cows in the garden.  It is so much fun to watch them eat broccoli and kale and dig the leftover turnips and sweet potatoes up and eat them.  When they are finished,  it looks like it's ready to be planted again.  And then I will seed rye grass for them to eat in spring.
Farm News:  Digging sweet potatoes this week!  They have not loved all the rain early in the year – and I was not able to get them all out before the 11 inches of rain that fell last week.  Some of them are starting to rot.  Hopefully they will dry and cure.    Only two weeks of CSA left!
What's in the bucket:  Broccoli florets, cabbage, head lettuce, collard, butternut, sweet potato, easter egg radish, daikon or kohlrabi.
What's at market:  Daikon, easter egg radish, sweet potato, kale, collard, cabbage, broccoli florets, butternut, candy roaster squash, cheese pumpkins.
This is a great recipe for winter squash soup.  I would skip the bread bowl and just serve with crusty toasted sourdough – but that's just me.
Michael Symon's Curried Winter Squash Soup
Olive oil
2 T unsalted butter
1 butternut squash peeled and cut into 1/2 inch chunks
salt and pepper
1 small yellow onion diced
1 2inch piece of ginger
2 t Curry powder or curry paste
1 15- ounce can Coconut Milk
1 cup Water
Cilantro Leaves (to garnish) Lime Wedges (to garnish)
4 Sourdough Boules (hollowed out; the inside bread reserved) Greek Yogurt (to garnish)
Toasted Butternut Squash Seeds (to garnish)
Preheat oven to 350F. In a dutch oven, heat the olive oil and a tablespoon of butter over medium-high heat. Add the butternut squash, onion, a generous pinch of salt, and sauté until softened.
Add the ginger and the curry powder or paste, and cook until very fragrant, about a minute. Add the coconut milk and water, and bring to a simmer. (Boiling will cause the coconut milk to break.) Cook for 15 minutes to allow flavors to come together.
Meanwhile, brush the inside of the sourdough boules with olive oil, and bake for 10 minutes, to lightly toast interior of boule.
Heat a tablespoon of butter in a nonstick pan, and add the reserved interior bread and season with salt. Once crispy, drain on a paper towel lined plate.
Use an immersion blender to puree the soup until completely smooth. Check seasonings, adjusting with salt and freshly ground pepper.
Ladle the soup into the sourdough bread bowls. Garnish with toasted croutons, cilantro, lime wedges, yogurt, and toasted seeds.
Happy Eating and thanks for buying local food from our farm!!
Letty