"No man needs a vacation so much as the man who has just had one."
― Elbert Hubbard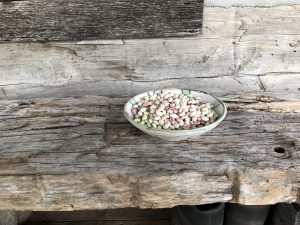 Curtis and I had a great time in Tryon, NC at the World Equestrian Games.  It was so good to get away, and be joined by family and friends for the event.  Very exciting because the US team won their first team title in the jumping, which we watched.  And of course, the horses were beautiful…all at the top of their game.
Back to work…..
Farm News:  Jennifer and Josh cared for our dogs, horses, cows, chickens, chicks, farm, garden etc.  They did such an amazing job, we are ready to go on vacation again (after we rest up of course).  All the animals were so happy and well cared for when we got home:)
We have three more weeks of CSA and I'm hoping for rain and cooler weather to finish the season.
What's in the Bucket:  Kale, red and green okra, broccoli, heirloom sweet potato, cranberry beans (pictured above….yes you must shell them). green beans, daikon radish.
Following a recipe from Genius Recipes that I love for kale salad.  You can use one of your winter squash you have set aside – or use sweet potatoes instead.   They may even roast faster….All good!
Author Notes: This salad is ideal for making ahead for company (or tomorrow's lunch) and has been a mainstay on the menu at Northern Spy Food Co. in Manhattan's East Villag (…more) —Genius Recipes
Serves: 2
Prep time: 30 min
Cook time: 40 min
1/2

cup cubed kabocha, butternut, or other winter squash

Extra-virgin olive oil

Salt and freshly ground pepper


1

bunch kale (preferably lacinato or dinosaur kale), ribs removed and finely sliced, about 2 1/2 cups


1/4

cup almonds, cut roughly in half


1/4

cup crumbled or finely chopped Cabot clothbound cheddar (or any good, aged cheddar — if you can't find aged cheddar, use Parmesan)

Fresh lemon juice

Pecorino or other hard cheese, for shaving (optional)

Heat oven to 425° F. Toss squash cubes in just enough olive oil to coat, and season with salt and pepper. Spread on a baking sheet (lined with parchment for easier cleanup), leaving space between the cubes. Roast in the oven until tender and caramelized, about 40 minutes, tossing with a spatula every 10-15 minutes. Toast the almonds on a baking sheet in the same oven until they start to smell nutty, tossing once, about 10 minutes. Let cool.
In a large mixing bowl, toss the kale with the almonds, cheddar and squash. Season to taste with lemon juice and olive oil (approximately 1 tablespoon lemon juice and 2 tablespoons olive oil). Season to taste with salt and pepper.
Divide salad between two plates or shallow bowls. Garnish with shaved pecorino cheese, if desired, and serve
Thanks for buying local food from Circle S Farm and Happy Eating!
Letty