"Bees do have a smell, you know, and if they don't they should, for their feet are dusted with spices from a million flowers."
― Ray Bradbury, Dandelion Wine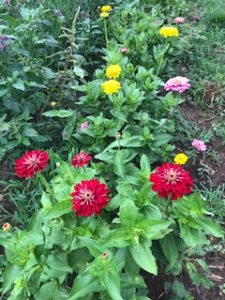 The zinnias are gorgeous right now.  They are a burst of color and make me smile whenever I walk down the row.
It is the time of year of endless bounty.  And it will end soon.  My refrigerator is packed.  I can't even decide what to make for dinner because there are so many veggies coming in right now.
Farm News:  The summer bounty is coming in.  Your bucket will be crammed with goodies because August is looking slim.  I haven't been able to replant much for fall because of rain, bugs and weeds – so I'm working on it!!  In the mean time – squirrel away some potatoes and cabbage just in case:)
What's in the bucket:  eggplant or peppers, green beans or field peas, sweet corn, tomatoes….tomatoes…..tomatoes, savoy cabbage, okra, red white and blue potatoes, garlic, parsley, blueberries.
What's at market:  green beans, field peas, sweet corn, tomatoes, cherry tomatoes, cabbage, blue and red potatoes, carrots, parsley, zinnia bouquets.  Circle S Beef: roasts, ground beef.
One of our shareholders gave me this recipe.  She said it was a real crowd pleaser.  I haven't made it yet, but have everything I need and I'm planning on making it this week.  It would go great with some garlic mashed potatoes and a bbq chicken!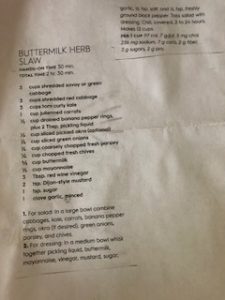 Happy eating and thanks for buying local food from Circle S Farm!!
Letty