"….pray what more can a reasonable man desire, in peaceful times, in ordinary noons, than a sufficient number of ears of green sweet-corn boiled, with the addition of salt?"
Henry David Thoreau, 'Walden' (1854)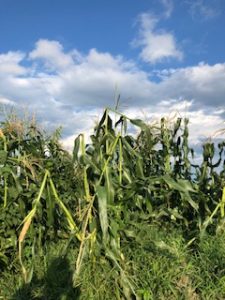 My sweet corn patch has been the party house for all the wildlife.  Crows, raccoons….I recognize their destructive patterns.  I was telling Brad from Riverview Milling that it looked like some critter was ripping ears off, eating them then making a pile of shucks and cobbs.  He said, "oh that's a bear".
Farm news:    Raccoons in the corn,  crows in the corn, bears in the corn?  I rescued most of the corn, went ahead and cleaned it and put it in the cooler.
What's in the bucket:  tomatoes, cherry tomatoes, sweet corn, purple hull peas  (you have to shell them, but worth the work)  purple potatoes, okra, garlic.
Below is a link on how to dry sweet corn in your oven.  It makes a great snack – or you can rehydrate it and use in recipes.  Plus, it won't take up room in your freezer and lasts for years if it is kept away from moisture.  Okra is also great dehydrated, but harder to keep from taking in moisture.
Preserving More Than Just Food
Tomato and sweet corn salad
INGREDIENTS
1 tablespoon extra virgin olive oil
1 teaspoon red wine vinegar
kosher salt
black pepper , freshly ground
3 cups corn kernels ( from about 6 cooked ears of corn)
18 cherry tomatoes ( red or yellow or combined)
2 tablespoons fresh basil leaves , thinly siced
1 tablespoon flat-leaf Italian parsley , chopped
DIRECTIONS
In a large mixing bowl, whisk the oil and vinegar with salt and pepper to taste to form a dressing.
Add the remaining ingredients, and toss to coat with the dressing.
Taste, and reseason if necessary.
Try this simple and delicious salad.
Happy Eating and thanks for buying local food from Circle S Farm.
Letty