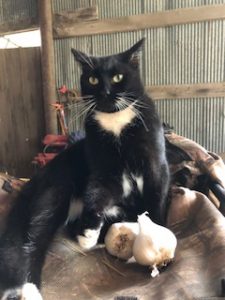 This is our barn cat Tootsie.  I pulled the garlic early this year for fear it would rot.  I needed a dry place for it to air and cure, so I put it in our hay barn.  Tootsie took a liking to laying under the garlic.  Seriously – she was always right with it.  I'm not sure if she was warding off vampires or fleas:)
Farm News:  It is a cooler day today.  Much deserved for animals and people.  Temporary relief from the flies, heat and humidity.
I was so excited about my peanut crop.  I planted peanuts for the first time in years.  I weeded and weeded and weeded the rows but could not, for some reason, keep up.  I finally gave up and mowed them down.  Couldn't even see the peanut plants anymore, they were lost to all the pigweed and grass.  Failures and disappointments…..rats.
What's in the bucket?  NOT peanuts……  last week for broccoli, first week for okra.  Also, summer squash, cherry tomato, daikon, carrot, garlic, hot peppers, green beans, and hopefully a few blueberries.
What's at market:  beets, carrots, red, white and blue potatoes, cabbage, savoy cabbage, basil, celery, flowers.  Beet the heat special:  free quart of beets with any $10 purchase.
If you have some potatoes laying around, it may be a good week for garlic mashed potatoes.  Also – if you still have daikon, carrots and cabbage lurking in your fridge – how about a quick batch of kimchi.
Me, myself.  I will be making a quick batch of green bean salad to eat and keep in the fridge for a quick lunch!!
Green Bean salad
1 lb green beans
2 T lemon juice
2 t olive oil
1 garlic clove smashed or minced
1 T chopped Fresh basil
1/4 t kosher salt
pepper
2

cups cherry tomatoes

grated sequatchie cove gruetli cheese or parmesan
Trim and cook green beans until crisp tender.   Plunge into ice water.  Drain in colander
Mix next 6 ingredients together for dressing.  Toss over green beans and add cherry tomatoes and grated cheese.
Happy Eating and thanks for buying local food from Circle S Farm!!