"If ever in doubt, throw a pepper in the air. If it fails to come down, you have gone mad, so don't trust in anything."    -Gregory Maguire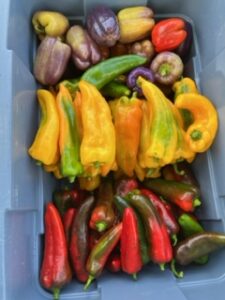 Never have I grown so many peppers.  Jennifer helped me trellis them this year, perhaps that is why.  We usually let the plants get heavy and fall to the ground.
Dog days is nearly over, and the weather feels like fall is coming.  Two more weeks of Dog Days CSA.  We have had enough of these hot, hazy dog days, the dogs and I.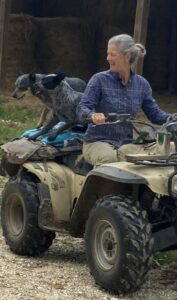 Farm News:  The Dog Days CSA ends September 26.  If you are a half share, your delivery tomorrow will come in a paper bag instead of a bucket.
I am planning to start Fall blast October 16, so there will be a two week break.  I will be in touch if you signed up for Fall Blast CSA.
What's in the bucket?  Peppers!  Again?….you say.   Perhaps you wish you were mad so you could throw them into the air and they would not come down!
Sweet potatoes, beets or baby turnips, Red Russian kale, Poblano peppers, sweet peppers, cilantro.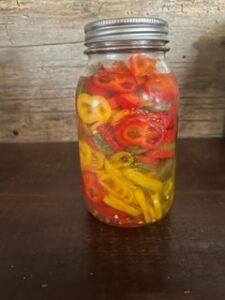 Pickle them!  You can cut up sweet and hot, mash them into the same jar.  They will all be hot then, mind you.  Boil white vinegar, add sugar, salt and a little water to taste.  Pour over your peppers.  Now they are quick pickled and will last in your fridge for a month or more.  Curtis and I can go through a jar every week.  We eat them on beans, sandwiches, quesadillas, grits, rice, crackers, burgers, potatoes….need I keep going?
Following, a recipe from Chili pepper madness.com.  You may need more ideas from this site if you throw your peppers up and they all come down!  Or more wine….right?
The pairing for this recipe from Scenic City Wine.  This is a good one – really compliments the mildly spicy flavor of this dish.
Stuffed Poblanos
Ingredients
4

 

poblano peppers

A bit of olive oil

 

or a spray oil

8

 

ounces

 

cream cheese

 

softened

4

 

ounces

 

shredded white cheddar cheese

1

 

tablespoon

 

spicy chili powder

1

 

teaspoon

 

garlic powder

½

 

tablespoon

 

ground cumin

Salt and pepper to taste

Juice from 1 lime

Chopped cilantro for garnish
Instructions
Get a grill going good and hot, to about medium-high heat.

Lightly oil the poblano peppers and set them on the grill. Close the lid. Flip the poblanos a few times throughout as you grill, about 10 minutes or so, until the poblano skins are nicely charred. Remove from heat and cool. Set them into a sealable baggie and allow them to steam. Cool, then remove and peel off the skins. (Alternatively, you can either oven roast or flame roast the poblano peppers. See the post discussion.)

Slit the poblanos up the side and open. Scoop out the insides.

In a mixing bowl, combine cream cheese, cheddar cheese, garlic powder, chili powder, cumin, and salt and pepper. Mix well.

Stuff the cheese into the poblano peppers and set them back onto the grill over indirect heat. Close the lid and cook about 10 minutes to allow the cheeses to melt. Alternatively, you can bake the cream cheese stuffed poblano peppers for 10 minutes or so in an oven at 375 degrees.

Remove and set onto serving plates. Squeeze lime juice over them and garnish with chopped cilantro.

Serve and enjoy!
Happy eating, happy peppers and thanks for buying local food from Circle S Farm!