"Life is an onion – you peel it year by year and sometimes cry."
― Carl Sandburg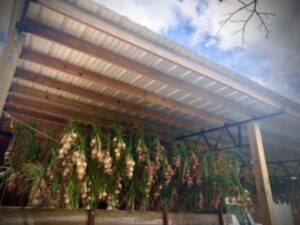 This year we have had a fabulous onion crop.  Thanks to Jennifer and Josh and their hard work, most of them are hanging in our hay barn to cure.  They will become sweet and delicious – and keep for a month or longer.  I guess we plant the things we love and hope they will grow.  I am an onion lover….so, yay me!  Jennifer – a potato fanatic….more on that next week.
I do love broccoli too, so again….yay me!  You may be tired of it – but loads of it will be in your share this week as we share the broccoli love.  And we try to make the transition from spring to summer.  The CSA is half over this week, or half is left after this week….are you glass half empty or half full?  So we have had 6 weeks of spring and now we shift into 6 weeks of summer.
Farm News:  We weaned some calves this week so it is NOISY at Circle S.  Curtis and I had the foresight to put the weaning paddock right next to our bedroom – so perhaps we are not so smart.  In general – though – this time of year we can sleep through anything so, there is that!
What's in the bucket:  OK – so no onions as I am saving them to savor for the last 6 weeks.  However….Broccoli, Collards, kohlrabi or cabbage, fennel bulb, beet root, green beans (hoorah) summer squash or peppers, cutting celery.
OK – the celery was supposed to be real celery but didn't size up.  The leaves are delicious – but probably should be used more like an herb (parsley) than anticipating a real celery experience.
Following a delicious broccoli fennel slaw recipe from Food and Wine.  I would substitute the celery leaves for the parsley.  That will make it extra delicious.
Creamy Broccoli-Fennel Slaw with Pine Nuts
This light and refreshing winter salad makes use of broccoli stems
© Sarah Bolla
Thanks for buying local food from Circle S Farm!