"I said, "I'll take the T-bone steak."
A soft voice mooed, "Oh wow."
And I looked up and realized
The waitress was a cow.
I cried, "Mistake–forget the the steak.
I'll take the chicken then."
I heard a cluck–'twas just my luck
The busboy was a hen.
I said, "Okay no, fowl today.
I'll have the seafood dish."
Then I saw through the kitchen door
The cook–he was a fish.
I screamed, "Is there anyone workin' here
Who's an onion or a beet?
No? Your're sure? Okay then friends,
A salad's what I'll eat."
They looked at me. "Oh,no," they said,
"The owner is a cabbage head."
— Shel Silverstein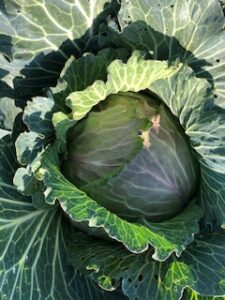 And so we shift from the season of salad to the season of sauerkraut.    It will be a short sauerkraut season as everything is coming in quickly.
Farm News:  We moved our cows across the road this week.  We have been fencing and working to get them over there for months.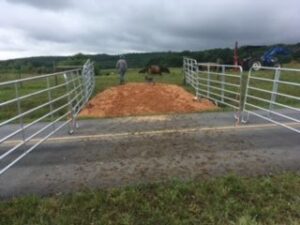 It is a new piece of property to us, and the cows first time going there.    We worried "what if they run down the road instead of going into the field."  A farmer friend told me – cows don't like to cross pavement.  That fueled the anxiety.  We put up panels and an elaborate electric fence to make sure no one got stranded on our side.  We were sure traffic would come, and then what?
All things said and done – it went well.  We did have to shake a bucket to get them to cross the pavement – it's always good to have a few in your herd who will come to a bucket.    And it only takes one to get them started, then they fall in line.
Then I started to worry – how are we ever going to get them back.  It's a big field, more space than they are used to rotating through….  They were waiting at the gate the next morning.
What's in the bucket:  As promised, NO kale!  However, onions are back.  Kohlrabi, colorful beets, fennel, Napa cabbage, romaine and red leaf lettuce, potatoes, and radicchio.
So – as we said, the season for Kraut.  But we'll get to that next week.  For this week – nothing better than fresh cabbage.  If the Napa cabbage intimidates you, save your Romaine for a Caesar salad, and make a Napa cabbage wedge salad.  Carve that giant into as many wedges as you can muster, and smother it with blue cheese dressing and whatever else strikes your fancy.  Onions?  Bacon pieces?  Or an perhaps an asian slaw with that Napa.   Lots of recipes for that online.
The radicchio is bitter.  A little goes a long way.  Chop some up and throw it into that Caesar salad.  Or toss some fruit and red leaf lettuce together with a light vinaigrette and add radicchio to make it interesting.   Thinly sliced red onion – divine.
As for the roots, as I have advised before, hash is always an option.  I love potatoes, beets, turnips, daikon – anything – for root hash.  And, of course, onion.  Plenty of oil in an iron skillet – grate your roots salt and pepper to taste.  Don't crowd your pan too much – you may need to make two batches and save one for another delicious frittata like last week!
For those other veggies – stir fry is always an option.  Fennel, kohlrabi and cabbage all make great additions to stir fry.  A little rice and protein of choice and call it dinner!
Happy Eating and thanks for buying local food from Circle S Farm!