"A sunflower field is like a sky with a thousand suns."
― Corina Abdulahm-Negura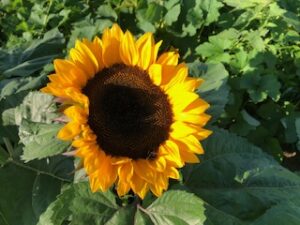 The sunflowers come and go so fast.  But they are lovely.  Beautiful in a vase – but ever more beautiful in a field against the sky.
Farm News:  Still fighting the crows in my tomatoes.  Put a fake hawk on the top of a post….just to see.  It took about 15 minutes for them to figure that one out.  They are smart!
And something is eating my tiny watermelons.  They aren't even ripe.  Rats!  No Coons?  Crows?
What's in the bucket:  green beans, summer savory, cherry tomatoes, peppers, tomatoes – and OK I'm sorry but….cabbage!  I thought it was giving up.  But I'll admit – I overplanted because I thought my transplants didn't look good.  Just stick it in your produce drawer and wait a few weeks – you'll be glad it's there.  And they keep forever!  And maybe some cucumber or squash – although they are playing out.  UNLIKE the CABBAGE!
Summer savory and green beans are perfect companions.  Try them together in this recipe:
Green Beans with Summer Savory
SERVES 4
Ingredients
• 1/2 small onion, minced
• 1 tablespoon butter
• Salt and freshly ground black pepper to taste
• 1 tablespoon minced fresh summer savory, or 1 teaspoon dried
• 1 tablespoon flour
• 1 pound green beans, trimmed and cut in 2-inch lengths
• Water
1. In a saucepan over medium heat, sauté the onion in the butter until soft but not brown. 2. Add the salt, pepper, savory, and flour, and cook, stirring for 2 minutes. 3. In another pot, boil the beans in water to cover or steam them in a small amount of water until just tender. 4. Slowly stir 1/2 cup of the bean cooking water into the onion mixture and bring the mixture to a boil. Immediately add the cooked, drained beans. 5. Transfer to a bowl and serve.
Happy eating and thanks for buying local food from our farm!