"What we do see depends mainly on what we look for. … In the same field the farmer will notice the crop, the geologists the fossils, botanists the flowers, artists the colouring, sportmen the cover for the game. Though we may all look at the same things, it does not all follow that we should see them."
― John Lubbock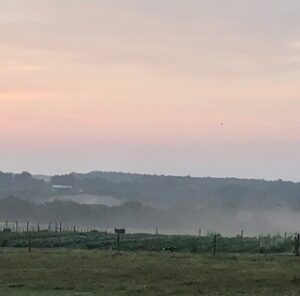 I took this photo the other morning at daybreak.  One lone cow behind the garden.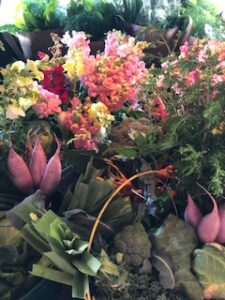 And here – a close up of the garden.  Your CSA shares loaded into the back of my car.
It has been a bountiful season thus far.  The only true failure so far was my sweet corn.  The crows pulled it up twice.  I'm threatening three is a charm – but the wet weather has kept me from planting.  I'm running out of time.
Farm News:  The crows pulled up the sweet corn.
No new chicken casualties this week.  We have been locking those birds up tight at night.  Whatever is killing them is nocturnal – maybe not a fox but a raccoon.
What's in the bucket? savoy cabbage, carrots, white onions, POTATOES yay potatoes!!! turnip root, collard greens, bountiful summer squash, bronze fennel.
Remember – if you get a giant zucchini or yellow squash – they are great to stuff – or make excellent noodles.  Also – you can use zucchini or yellow squash to make zucchini muffins or bread.  If you don't have a spiralizer to make zucchini noodles- get one!  I have a cheap one that doesn't take up any space and it works deliciously!
Following – a recipe from the stay at home chef.  Easy one pot flavorful meal.
TIKEL GOMEN : ETHIOPIAN CABBAGE DISH
Time to Make It: 40 minutes
Yield: Serves 4-6
1/3 cup olive oil
4 carrots, sliced
1 onion, thinly sliced
1 tsp salt
1/2 tsp black pepper
1 tsp cumin
1 tsp turmeric
1/2 tsp ground ginger
1 head cabbage, sliced
5 red potatoes, cut into bite-sized pieces
Heat the olive oil in a 6.5-Quart Covered Stockpot over medium high heat.
Toss in the carrots and onion and saute them in the oil for about 5 minutes.
Stir in the seasonings (salt, pepper, cumin, turmeric, ginger) and toast for a minute.
Add in the cabbage and potatoes. Stir to combine. Cover the pan. Reduce the heat to medium-low. Cook until the potatoes are soft, about 30 minutes. (actual time will depend on how big you cut your potatoes).
Happy Eating and thanks for buying local food from our farm.