"Badger: The cuss you are.
Mr. Fox: The cuss am I? Are you cussing with me?"
― Roald Dahl, Fantastic Mr. Fox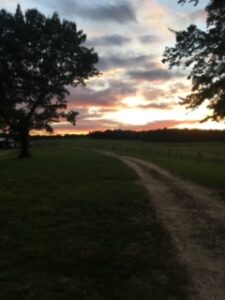 Something has been getting our chickens.  Busted the door down the other night and killed two.  One Diamond found in a hole in a neighboring tree.  The other, eaten mostly, out in the field.  This is always a source of panic.  A predator never stops with two.  Especially not a fox.  I'm cussing the fox.
I'm also cussing whatever killed Freddie.  Yes – Freddie the snake.  Curtis found her dead.  I'm assuming it is her and not her friend.  Or perhaps it was her foe.  Because I usually see Freddie every day or two – in the chicken house or out in the yard.  And I haven't seen her:(  She has been here the past 3 years and I am devastated to loose our friendly snake and mouse trap.
Farm News:  Fox in the henhouse.  And we lost our lovely black ratsnake, Freddie.  Darn!  Curtis has been mowing hay.  Always a busy time of year for us.  Trying to keep up.  As they say, make hay when the sun shines!
What's in the Bucket? (or bag!):  Fruit from Jones farm, cabbage, broccoli, leeks, carrots, kale, lettuce, fennel and Daikon radish.
Following, an easy side dish.  I'm into easy right now – since everything is so busy!
Easy cabbage with leeks from Spruce Eats
1 medium green cabbage
3 large leeks
3 tablespoons butter
1/3 cup chicken broth (or more)
1 teaspoon kosher salt (scant)
1/2 teaspoon black pepper (freshly ground)
Optional garnish: caraway seeds
Cut the cabbage into 6 wedges and then remove core pieces. Thinly slice the cabbage wedges crosswise into thin strips or shred it using a food processor with the slicing disk attachment. Alternatively, you may chop the cabbage

Trim the leeks and discard the green parts; slice the leeks thinly. Transfer the sliced leeks to a bowl full of cold water. Swish the leeks around to loosen any sand that might be clinging to them. Using a slotted spoon or your hand, scoop them out onto into a strainer.

Melt the butter in a large, deep skillet or Dutch oven over medium heat. Add the leeks and cabbage and sauté, while stirring, for about 7 to 8 minutes.

Add the chicken broth, salt, and pepper and simmer, covered, ​for 15 to 20 minutes, or until the cabbage is cooked but is still slightly crunchy.

6.Arrange the cabbage and leeks in a serving dish. Sprinkle with caraway seeds, if desired, and enjoy
Happy Eating!  Easy Cooking….and thanks for buying local food from Circle S Farm.