"God created war so that Americans would learn geography."
― Mark Twain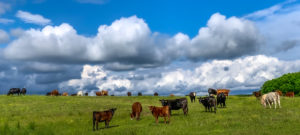 OK – so tomorrow is Memorial Day. But I am trying to keep it light because I know we are all still edgy about the current war against covid 19. And I will say, I am not going to mention "IT" except to say I am thinking of all the people who are still fighting for their lives, and those who are still working to protect and heal them.
And so a Mark Twain quote seemed ideal. We continue to learn Geography, where things come from….not to mention our food. So this week your food will be coming from, of course, Circle S Farm. I would also like to mention a partnership with Jones Farm for fruit (strawberries this week) and Broadfork Meadows Farm, Michael Mclane who is a neighbor of ours and is supplementing ours with beautiful natural flowers and pastured eggs.
By the way – the amazing picture above was taken by Julie Clark. A very talented friend who just happened to be driving by and took a picture of our cows the other day!
Farm News: the garden is finally beautiful. This is my favorite time of year with everything in the garden green! Timing is complicated sometimes – so the arugula and kale mix got a little bigger than I hoped. But otherwise I am pleased.
What's in the Bucket? Lettuce, beet greens, Kalebration kale mix, red Russian or Siberian kale, mustard greens, arugula, young onions, spinach and rosemary and of course, Strawberries.
Don't panic! when you see all these greens, remember you can freeze what you can't eat. The kale, beet, spinach and arugula are wonderful raw or cooked. So you have options.
Curtis and I have on more than one occasion made slaw out of our kale to put on a hamburger. Just use your favorite slaw recipe. A handful of greens on a sandwich or in soup. Make sure you wash and dry everything asap and store in your fridge where you can grab them with no preparation. That definitely helps!
My favorite kind of pesto is arugula pesto. However – you can use Kale, Mustard, I wouldn't use spinach but basically anything else.
Here is a basic recipe – make it your own!
2/3 cup olive oil
2 cups greens (arugula, kale, beet, mustard or – combo?)
1 cup nuts (pine nuts, walnuts, pecans – I use peanuts sometimes!)
6-8 cloves garlic – or sometimes I use onion instead
1 1/3 cup hard cheese
salt and pepper to taste
You can freeze this in ice cube trays. Great on pasta, rice, potatoes, fish etc.
Thanks for buying local food from our farm and supporting our local food economy!
Letty