"The rain to the wind said,
You push and I'll pelt.'
They so smote the garden bed
That the flowers actually knelt,
And lay lodged–though not dead.
I know how the flowers felt."
― Robert Frost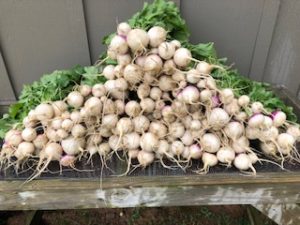 Lucky to have some rain and cool weather in June.  I was beginning to think summer was here, long and hot.  The garden has responded in color.  All the cool weather plants boosted, and the sweet corn starting to tassle.
This picture is of our awesome turnip harvest last week.  I thought Jennifer might have been a bit ambitious – but we sold them all at the market with our Turnip Truck Special!
Farm News:  We have a bobtail cat named Lucy (Lucifer when she is naughty).  She is old.  I'm not sure how old but I'm guessing 15.  She had one litter of kittens and has outlived all of her 7 offspring.  She is tough.  A friend of a friend trapped her from a litter of ferrel cats in Wyoming and she was tamed into domestic life – but she is still a bit wild.  Ferocious hunter.  She went missing – which happens when she is hunting in summer for a few days.  But this time it was a week, or longer.  I figured she had been hunted herself – and picked up by a coyote or bigger cat.  However she appeared yesterday.  Skinny and begging.   I had given up.  Perhaps she has another of her 9 lives – another great adventure in her future.
What's in the bucket:  TURNIPS!  Just kidding.  Leeks, Swiss Chard, kohlrabi, red and green lettuce, summer squash, basil, mustard greens.
Following a NY Times recipe.  I love a one dish meal.  Add some summer squash and Chard cut into ribbons.  Happy Eating and Thanks for buying local food from Circle S Farm.
Baked Rice with Leeks and white beans.
The following recipe from NY Times.  Easily adjusted – add summer squash and Swiss chard cut into ribbons.  I love a one dish meal.
4

 

leeks (about 2 pounds), trimmed, white and pale green parts sliced 1/4-inch thick

1

 

lemon

¼

 

cup raw almonds

½

 

teaspoon red-pepper flakes

5

 

tablespoons extra-virgin olive oil

 

Kosher salt and black pepper

1 ½

 

cups uncooked basmati rice

1

 

(15-ounce) can white beans (such as cannellini or great Northern), rinsed

2 ½

 

cups boiling water

½

 

cup freshly grated Parmesan, plus more for serving

¼

 

cup thinly sliced or chopped basil, chives, mint or fennel fronds, plus more for serving
PREPARATION
Heat the oven to 400 degrees. Rinse the leeks until they're clean, then shake or pat dry. Using a vegetable peeler, peel 1-inch-thick strips of lemon zest, then cut the lemon in half. Cut one half into four wedges and reserve the other half.
In a 9-by-13-inch baking pan, combine the leeks, lemon zest strips, almonds, red-pepper flakes and olive oil. Season generously with salt and pepper, and arrange in an even layer. Roast until the leeks start to caramelize, about 20 minutes.
Finely chop the lemon zest strips, then stir it back into the leek mixture and arrange in an even layer. Sprinkle the rice evenly over the leeks, then top with the beans and 1 teaspoon salt. Add the boiling water, then seal the pan tightly with foil. Bake until the rice is tender, 20 to 22 minutes.
Remove from the oven, and let sit, covered, for 5 minutes, then fluff with a fork. Squeeze the lemon half over the rice, then stir in Parmesan and herbs. Season to taste with salt and pepper. Serve with lemon wedges, and more Parmesan and herbs, as desired.