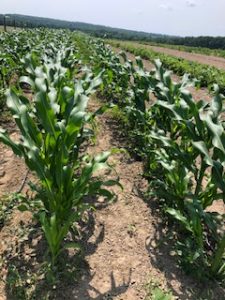 Tell You a little story and it won't take long,
'Bout a lazy farmer who wouldn't hoe his corn.
The reason why I never could tell,
That young man was always well.
He planted his corn in the month of June.
By July it was up to his eyes.
Come September, came a big frost.
And all the young man's corn was lost.
Writer(s): ALISON KRAUSS, PATRICK BRAYER, JERRY DOUGLAS, RON BLOCK, BARRY BALES, DAN (T) TYMINSKI
Every year when I'm weeding sweet corn this song comes to me.  I sing it while I'm pulling all the pig weed out of my corn rows.  Pig weed, if you aren't familiar, is so thorny it is hard to have gloves thick enough not to get pierced.   When I researched pigweed for a scientific name, I came upon this.
Amaranthus spinosus, commonly known as the spiny amaranth,[1] spiny pigweed, prickly amaranth or thorny amaranth, is a plant is native to the tropical Americas, but is present on most continents as an introduced species and sometimes a noxious weed. It can be a serious weed of ricecultivation in Asia.[2]
Dye use
[
edit
]
In Khmer language, it is called pti banlar and in Vietnamese giền and its ash was historically used as a grey cloth dye.
Food use
[
edit
]
Like several related species, A. spinosus is a valued food plant in Africa.[3] It is valued also in Thai cuisine, where it is called phak khom (Thai: ผักขม). In Tamil, it is called mullik keerai. In Sanskrit, it is called tanduliyaka. It is used as food in the Philippines, where it is called kulitis. The leaves of this plant, known as massaagu in the Maldivian language, have been used in the diet of the Maldives for centuries in dishes such as mas huni.[4] In Mexico, it is among the species labelled Quelite quintonil in Mexican markets. In Bangladesh it is called "Katanote (কাটানটে)". In Manipuri, it is called" Chengkrook" and is used as food in stir-fry and in broths mixed with other vegetables.
Traditional medicine
[
edit
]
In the folk medicine of India, the ash of fruits of Amaranthus spinosus is used for jaundice.[5] Water extracts from its roots and leaves have been used as a diuretic in Vietnam.[6]
Who would know, such a mean and ugly plant could be used for so many things.  I am changing my attitude towards pigweed.  Perhaps I should be cultivating it instead of pulling it out!!
What's in the bucket:  PIGWEED!  Just kidding.  Cilantro, kale, summer squash, beets, romaine and red leaf lettuce, young onions.
Recipe from the Kitchen Paper for Beet and cilantro gazpacho.  Yum, wish I had cucumbers coming in too – but they are easy to find.  Main Street market had plenty last week!
4

large beets

1/2 cup

fresh cilantro leaves

2

garlic cloves

2/3 cup

chopped cucumber, plus more for garnish

1/3 cup

diced red onion, plus more for garnish

1 Tbsp

apple cider vinegar

½ tsp

salt

¼ tsp

fresh ground pepper
To garnish: micro greens, extra cucumber, red onion, cubed beets, cilantro, yogurt, salt & pepper
---
instructions
In a large pot, cover the beets with water, and bring to a boil. Cover, and reduce to a simmer. Let the beets cook for 40-50 minutes, or until tender.
Remove from heat, and let cool to room temperature (remove the beets from the water to speed this process up). Save the cooking water!
When the beets are cool, use your hands to remove and discard the skin.
Save one beet to cube and use as a garnish. Put the rest of the beets, along with the cilantro, garlic, cucumber, onion, apple cider vinegar, salt, and pepper in a blender. Add two cups of the reserved cooking liquid, and blend until smooth. Add more liquid as needed, along with salt & pepper to taste.
Serve the soup cold, topped with micro greens, extra cucumber, red onion, cubed beets, cilantro.
Happy Eating and thanks for buying local food from Circle S Farm!!
Letty