"As the sun shines I will make hay
To keep failure at bay
For there remaineth a pay
For my honest toil each day."
― Ogwo David Emenike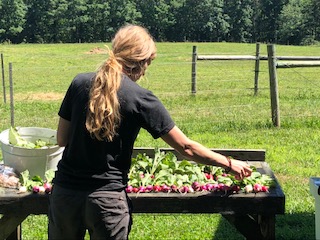 I am so lucky to have Jennifer helping me this year.  Here she is putting beautiful bunches of radishes together!
Farm News:  Curtis is cutting hay.  He put up 100 round bales last week with the smallest bit of help from me.  Hay is incredibly dependent on weather.  It is a challenging job when mother nature makes the calls!!  And if one is paid in honest toil, Curtis would certainly be a millionaire.
To be continued….. from last week.
After Henry pushed Opie through the fence and out into the field Curtis and I looked at each other.  We knew we needed to move fast to get their attention.  Luckily, the two bulls split and Henry went one direction and Opie ran down the fence.  I grabbed a bucket and went to get some feed (one reason to feed an animal every once and a while:).  We towed Henry back into the lot with Windy.  Even though the fence was in shambles – he stayed in.  Then we had to track Opie down.
Being new, he doesn't know where all the gates are etc.  He came back up the fence I guess to challenge Henry again.  We lucked out and got him through the gate and into the corral.
Needless to say, we made a plan B.   After fixing fence, we turned Opie out in the lot next to Henry and Windy.  They went through all their shenanigans again, but had a fence between them.  I was afraid they would tear the fence down to get to each other, but they did not.  After about two weeks of living next door, Opie and Henry had settled.  We decided to try turning them out together again.
It was a rainy day.  The ground was wet.  We waited until Henry was down in the woods and not paying attention – opened the gate and let Opie through.  Then we crossed our fingers and waited.
They did tangle a bit.  Henry pushed Opie around the pasture and he slipped a time or two, but luckily no fences down.  After about 30 minutes they settled and have been quiet ever since….
What's in the Bucket? Kohlrabi, lettuce, turnips with greens, summer squash, a few snow or snap peas, mustard or kale greens.
Kohlrabi are an excellent treat raw.  Chop them up in your salad and enjoy!!
If you are tired of greens, they freeze wonderfully and are so enjoyable mid-summer when they are out of season, or in the winter with a bowl of pinto beans and cornbread.  Just wash them, chop them and plunge them into boiling water for 2-3 minutes.  Then let them cool and freeze them in bags or containers.  You can mix and match – throw them all in there together.
What's at market?  spinach, arugula, mustard greens, kale, leaf lettuce, bibb lettuce, summer squash, turnips with greens, Daikon radish.
Turnip and greens gratin
5 garlic cloves, thinly sliced

2 cups heavy cream

½ teaspoon dried thyme

2 tablespoons unsalted butter, divided

3 medium onions, thinly sliced

Kosher salt

3 bunches turnip, mustard or kale greens, ribs and stems removed, leaves torn

4 medium turnips (about 1¾ pounds total), trimmed, peeled, cut into ½-inch pieces

3 large eggs, beaten to blend

4 ounces Fontina cheese, grated (about 1 cup)

1 ounce Parmesan, finely grated (about 1 cup)

8 ounces day-old white country-style bread, cut into ½-inch pieces

Freshly ground black pepper
RECIPE PREPARATION
Bring garlic, cream, and thyme to a bare simmer over medium heat. Reduce heat to low and let cream simmer 30 minutes. Let cool.

Meanwhile, heat 1 Tbsp. butter in a large skillet over medium-low. Add onions, season with salt, and cook, stirring occasionally and adding a splash or two of water if onions begin to stick to pan, until caramelized and amber colored, 45–60 minutes. Transfer to a large bowl and let cool. Wipe out skillet.

Heat remaining 1 Tbsp. butter in same skillet. Working in batches, add greens, tossing and letting it wilt slightly before adding more; season with salt. Cook until greens are wilted and tender, 5–8 minutes; transfer to bowl with onions.

While greens are cooking, cook turnips in a large pot of boiling well-salted water until crisp-tender, about 2 minutes; drain. Transfer to a bowl of ice water and let cool. Drain; pat dry. Transfer to bowl with onions.

Preheat oven to 375°. Whisk eggs, Fontina cheese, Parmesan, and cooled cream mixture in a large bowl to combine. Add onion mixture and bread; season with salt and pepper. Transfer to a 13×9″ baking dish and press down on mixture with your hands to form a tight, even layer. Bake gratin, uncovered, until well browned, 40–50 minutes. Let rest 10 minutes before serving.

Do Ahead: Gratin can be assembled 12 hours ahead. Cover and chill.
Happy Eating and thanks for buying local food from Circle S Farm.
Letty