Find something you really love doing and mix it with something you really care about.     Kathleen Hanna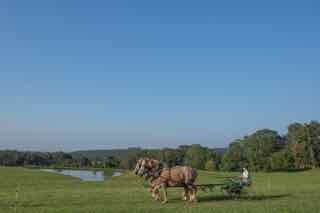 What I love is working with horses.  What I care about is growing healthy food, building soil, sequestering carbon, saving road miles and hopefully reducing our footprint on this precious planet.
CSA is winding down.  We end our season October 2, and I breathe a sigh of relief.  No deer (or cows, or crows) ate the whole garden this year.   It is never what I dream it will be, but it is always enough.
This is my 12th year of CSA .  It has been a wonderful experience, and though my body continues to remind me of the twelve years (plus the years of horse shoeing and various other things) I am excited about what's next!
For those of you who have made the move to Menlo with us, and tolerated the learning curve of horse power, I promise you, there are good things ahead.  I will have room next year to put beds of strawberries, flowers and other things out.  I have learned certain things don't work when you are cultivating with horses – anything that vines – melons, winter squash, sweet potatoes, cucumbers.  So all of these things I will put in beds outside the garden and care for them separately.  This will give me more room in the garden to put things I can cultivate with the girls – like sweet corn.
So…..lots of good things ahead – and loads of gratitude for those of you who have stuck with us through the last few years – and our move South.
What's in the bucket:  Brussels sprouts, romaine lettuce, spinach, summer squash, turnips with greens, beets, cilantro.
What's at market:  romaine lettuce, bibb lettuce, red leaf lettuce, kale, mustard, collards, turnips with greens, spinach (really – it has recovered from the hurricane), okra.  Circle S Beef:  ground beef.
Romaine and Brussels salad
1 lb of Brussels (or whatever you have)
1-2 heads romaine lettuce
1 block fresh parmesan cheese, shaved
1 cup dried cranberries
1 cup whole wheat bread crumbs
1/4 cup real butter
pinch of kosher salt or sea salt and fresh ground pepper
1/4 cup white balsamic vinegar
1/4 cup apple cider vinegar
2 tsp raw honey
1 tsp dijon mustard
1/2 tsp salt
1/2 tsp freshly ground pepper
1 cup extra virgin olive oil
Directions
1. For vinaigrette, place all ingredients in jar with tight fitting lid or blender. Shake or blend until emulsified.
2. Finely chop brussel sprouts (can use a mandolin or knife).
3. Chop romaine leaves
4. Place brussel sprouts and romaine in cold water for 5 minutes. Drain and dry. Put in mixing bowl.
5. Melt butter and add breadcrumbs. Lightly toast crumbs.
6. Add cranberries, 1/2 the breadcrumb mixture and salt/pepper to lettuce/brussel sprouts in bowl. Toss with dressing.
7. Top each serving with parmesan cheese and remaining breadcrumbs.
Happy Eating and thanks for buying local food from Circle S Farm.  Enjoy!