"Answer July—
Where is the Bee—
Where is the Blush—
Where is the Hay?
Ah, said July—
Where is the Seed—
Where is the Bud—
Where is the May—
Answer Thee—Me—"
–  Emily Dickinson, Answer July 
Farm News:  Logan is finally here!! Yipee, we've been waiting all summer and he will be here until the second week in August.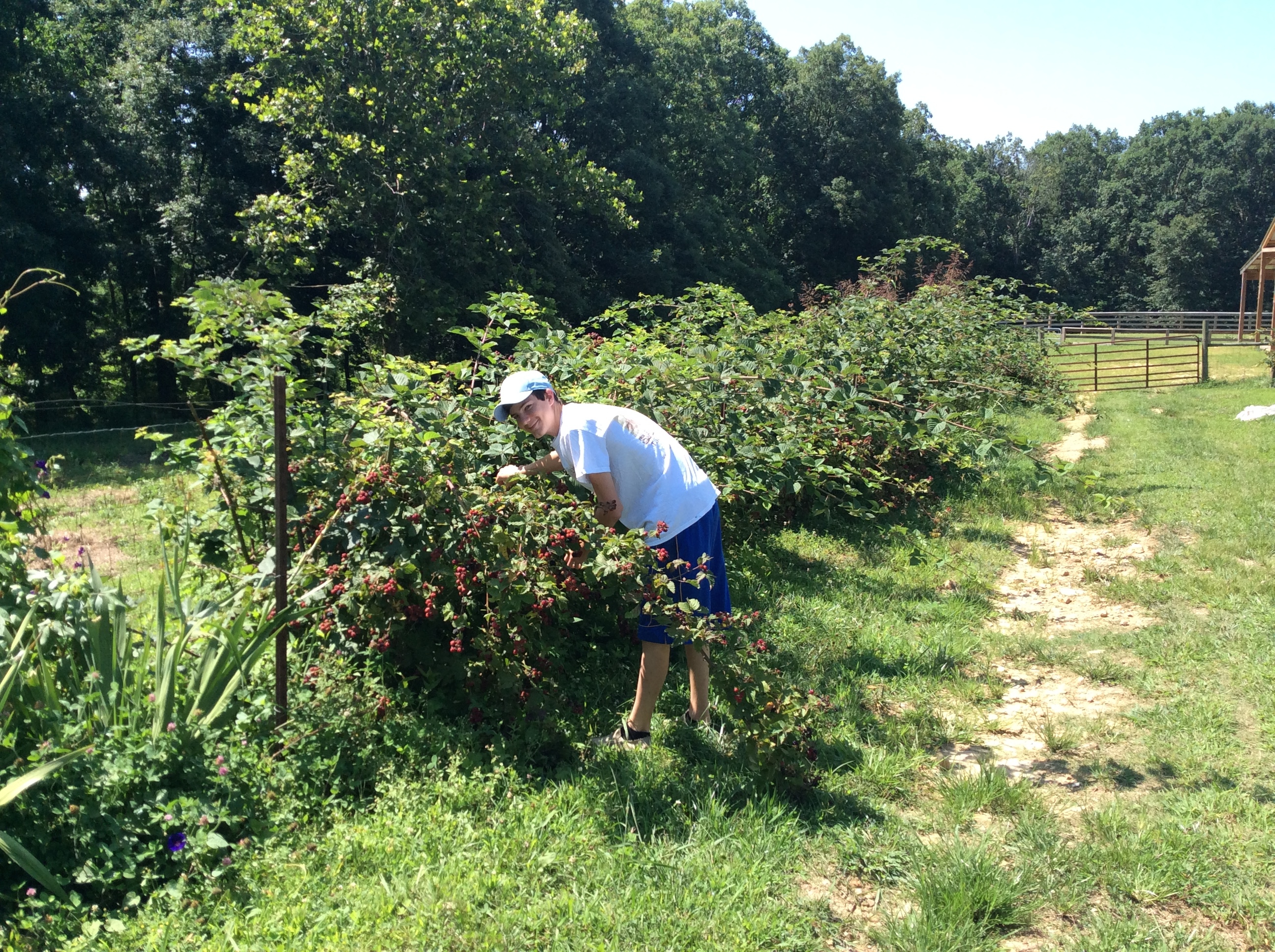 Rooster crowing!!  One of our little chicks has started crowing.  It's hard to tell whether a chick is a rooster or a hen until they get about 6 months old.  I usually can't tell until they start crowing – which is what happened.  I listened out the window a few mornings ago and thought 'what in the world is that?'.   It takes a while for a rooster to learn to crow, and their first attempts are downright pitiful.  He's feeling pretty proud of himself, though, and I saw him sitting on the gate the other day crowing and looking at our other, much bigger rooster.  He'll learn about that other rooster soon enough.
What's in the bucket?  Lots of maters and peppers, okra, white potatoes, field peas OR sweet corn OR eggplant (all of which are fading fast), berries
If you get totally overrun with peppers, they freeze great for cooked dishes.  Chop some up and freeze them, then when you are making sauces or soups this winter, you can just grab them out of the freezer.  I also make a batch of pepper jelly every year, which is fairly simple.
Stuffed Peppers
ingredients
3 cups cooked quinoa
1 (4-ounce) can green chiles
1 cup corn kernels
1/2 cup canned black beans, drained and rinsed
1/2 cup fresh diced tomatoes
1/2 cup shredded pepper jack cheese
1/4 cup crumbled feta cheese
3 tablespoons chopped fresh cilantro leaves
1 teaspoon cumin
1 teaspoon garlic powder
1/2 teaspoon onion powder
1/2 teaspoon chili powder, or more to taste
Kosher salt and freshly ground black pepper, to taste
6 bell peppers, tops cut, stemmed and seeded
INSTRUCTIONS
Preheat oven to 350 degrees F. Line a 9×13 baking dish with parchment paper.
In a large bowl, combine quinoa, green chiles, corn, beans, tomatoes, cheeses, cilantro, cumin, garlic, onion and chili powder, salt and pepper, to taste.
Spoon the filling each each bell pepper cavity. Place on prepared baking dish, cavity side up, and bake until the peppers are tender and the filling is heated through, about 25-30 minutes.
Serve immediately.