"Be proactive not reactive, for an apparently insignificant issue ignored today can spawn tomorrow's catastrophe"   -Ken Poirot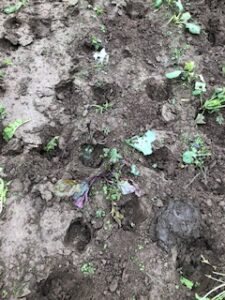 Ok – so it was a gate they never went through.  Not even a gate – panels we put up and chained to the posts.  The cows had never tried to push on them before.  I will admit, the last time I walked by, I tied a tired hay string around them.  Not sure what I thought that would do.  At any rate, Thursday morning when I went out to check for new calves – I saw the cows pushing through the garden gate.  I ran.  But it was too late.  So I started pulling collard plants, and carrots, and kale.  Daikons and turnips.  As fast as I could and throwing it over the fence so the cows couldn't reach it.  Luckily we hadn't mowed the grass around the garden, so it took the cows a few minutes to get to the garden – but then the race was on.  Trying to stay ahead of 50 hungry cows is no easy task.  Didn't help that it was a foggy, cold miserable day.  One cow had her calf and never picked her head up to quit eating collard greens.
After about 30 minutes it was over.  They had caught up with me, and I had to hand it over to them.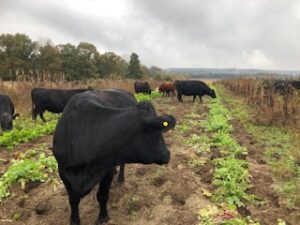 So – glass half full – I'm so glad this didn't happen earlier in the season.  I was able to harvest enough for my last week of CSA.  Our market sales will take a hit – but this is the kind of thing farmer's have nightmares about.  I remember Roy Jones at Jones Farm saying he didn't sleep one whole winter….he had a contract on his strawberries and was terrified his cows would get through the fence and eat the plants.  So this is a minor set back.   Important to keep your sense of humor, right?  So we will be selling collard fed beef next year….a delicacy.
Farm News: The cows busted into the garden.  I need therapy.   Cows and calves are fat and happy after eating collard greens, mustard greens, daikon and turnip root.  Luckily, Loofa sponges were left untouched:)
What's in the last CSA share:  Rescued roots and greens.  Dried oyster mushrooms (rehydrate with hot water).  Peppers left over from market last week.  Winter squash and sweet potatoes.
Southern Style Vegan Collard Greens with Mushrooms
Author:

 

Total Time:

 

50 minutes

Yield:

 

4

 servings 

1

x
MUSHROOM BROTH*
¼ cup

 dried mushrooms, porcini, oyster, morels or mixed

2 cups

 water
COLLARDS
2 tablespoons

 avocado oil

10 ounces

 cremini mushrooms, stems trimmed, caps sliced

1

 large yellow onion, sliced

2

 large cloves garlic, chopped

3/4 teaspoon

 smoked paprika

1

 bunch collard greens, (about 

3/4

 pound) thick stems trimmed and leaves cut into ribbons
Freshly ground black pepper

1

 Roma or plum tomato, chopped or 

1 tablespoon

 apple cider vinegar

1 tablespoon

 extra-virgin olive oil
---
INSTRUCTIONS
MUSHROOM BROTH*
Bring 2 cups water to a boil. Add dried mushrooms. Turn off heat, let sit 20 minutes while preparing the rest of the ingredients.
Strain the liquid and reserve. Coarsely chop the mushrooms.
COLLARDS
In a large, heavy-bottomed sauté pan, heat 2 tablespoons avocado oil over medium-high heat until shimmering.
Add sliced mushrooms and reserved rehydrated mushrooms (from stock) and cook, stirring, until lightly browned, about 8 minutes.
Add onion and garlic. Sprinkle with salt and cook, scraping up any browned bits, until softened, about 3 minutes; lower heat if necessary to prevent burning.
Add the smoked paprika and stir. Add the stock.
Bring to a simmer and add collard greens. Stir the greens to wilt and submerge in stock.
Simmer gently, uncovered, until greens are very tender, about 30 minutes. If the liquid begins to dry out, cover the pan.
Add chopped tomatoes once the collards are done. If you don't have a tomato, sprinkle with 1 tablespoon apple cider vinegar
Season with salt and pepper and 1 tablespoon olive oil.
Serve in bowls with broth or on a plate with broth on the side.
Happy Eating….Thanks for your support of Circle S Farm this season.
Letty