"The centerpiece was a roasted stag. crowned with gilded antlers and stuffed with songbirds; they had hunted well. We were forbidden to kill the deer that fattened on our coleworts and stole our grain, and the venison tasted all the better for the salt of revenge."
― Sarah Micklem, Firethorn
There have been deer in my garden.  First a Mom and fawn.   She would leave that baby laying in the grass below the garden while she went off during the day.  Sometimes I would see it stand up and look for her – and then bed back down in her camouflage of green.
So, I didn't worry.
Then I noticed – the sweet potato greens in the bottom garden were starting to look nibbled on.  Ah – there's enough to share I thought.  Nothing else seemed bothered.
I stopped seeing the youngster – and went out one day to check on the sweet potatoes.  Gone.  I could hardly tell where they had been.  I couldn't understand.  I had been looking for deer in the early morning and evening – but silence.
Curtis went out to throw the coffee grounds out one night late – around 11.  He took the spotlight.  8 deer in the garden.  Rats……no deer!
Needless to say – I turned the hot wire on high and added a few strands…."the salt of revenge".  However, the sweet potatoes are small at best this year.  We did salvage what we could.  Jennifer, my friend and right hand farmer, is an avid activist against food waste.  It piles up in our landfills and adds to global warming.  So, in her brilliance, promotes the small stringlike sweet potatoes as premade fries.  She is also a lover of any spud….so would encourage you to just peel the ragged things, and roast them until tender.  And of course feed the peelings to your dogs (as we do with Temple Top Treats) or compost them but do not! throw them away.  Alternately – use those sweet potatoes in the lentil root soup recipe below.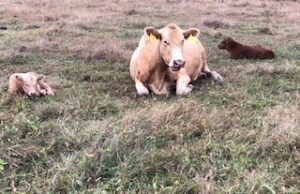 Farm News:  We are into our calving season and have had our first set of twins for the year.  We usually have two or three sets.  Twins are hard for a cow to raise.  They get confused if they have two – and can't keep up with them both.  However, Nestle (appropriately named) claimed both her twins and has plenty of milk to feed them!  Hoorah.
What's in the bucket/CSA share?  Sweet potato strings, turnips or daikon, red Russian kale, Siberian kale (why do so many kales come from Russia?), lettuce, mesclun salad mix, carrots, sweet peppers, jalapeno peppers, malabar spinach, Rosemary.  The malabar spinach has a red vein – and is a hot weather spinach.  I will harvest the whole plant- so add the leaves to your salad, , soup or lightly saute the whole deal.
Following – a recipe from Boston Organics for Lentil Root stew.
Ingredients
1 cup organic green lentils
28 oz can diced tomatoes
3 cup water
1 cup diced onions (about 1 medium onion)
1 peeled sweet potato, roughly chopped
1 or 2 jalapeno peppers, chopped (or 1/4 tsp crushed red chiles)
2 cup sliced carrots (about 2 medium carrots)
2 cup diced turnips (1/2 pound)
3 cloves garlic, pressed (or 1/4 tsp garlic powder)
1 or 1 1/2 cup finely sliced kale leaves
1/4 cup grated Parmesan cheese or finely chopped parsley (optional)
salt and pepper to taste
Recipe
1. Combine lentils, tomatoes, water, onions, sweet potato, peppers, carrots, and turnips in a medium-large saucepan.
2. Bring to a boil, then reduce heat to medium-low and simmer for 45 minutes or until vegetables and lentils are soft. Stir occasionally, breaking up the tomatoes.
3. Add garlic and kale leaves and continue to simmer until kale is soft. Serve topped with finely grated cheese or chopped parsley, if desired. Season to taste with salt and pepper.
Happy Eating and thanks for buying local food from Circle S Farm.