The Cow in Apple Time
Robert Frost – 1874-1963
Something inspires the only cow of late
To make no more of a wall than an open gate,
And think no more of wall-builders than fools.
Her face is flecked with pomace and she drools
A cider syrup. Having tasted fruit,
She scorns a pasture withering to the root.
She runs from tree to tree where lie and sweeten
The windfalls spiked with stubble and worm-eaten.
She leaves them bitten when she has to fly.
She bellows on a knoll against the sky.
Her udder shrivels and the milk goes dry.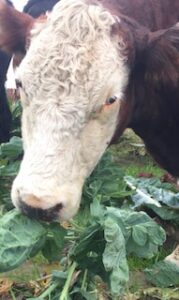 I love this poem and I'm always reminded of it in fall when our apples come in.
We bought a cow a few years back.   I named her Ranger (for Free Ranger, or Lone Ranger….both fit) because she ignored our electric fences and went wherever she wanted.  She has a big white face.  One of her favorite places to range, of course, was my garden.  She always knew when she was caught red handed, and she would get this look on that big white face.  Raise that head up, look at me, and then take off, with carrots she had pulled hanging out of her mouth.
We finally got enough charge on that fence to keep Ranger out….but Ranger and I still look at each other and remember her free ranging days.
Nevertheless – I love fall.  The end of the vegetable season for a farmer, always a relief.  Our cows start calving in late October.  And it's always the calm before the storm.  They are so quiet right now.  Busy eating and stockpiling weight for winter.
As such – our fall blast CSA starts Monday so….here's what to expect, as promised lots of roots and greens!
What's in the bucket:  Daikon and giant turnip root, mustard greens, breakfast radish, mesclun salad mix, arugula, mixed kale, sweet peppers, hot peppers, apples and cilantro.
I have been into fermenting lately and have made several batches of fermented hot sauce that are amazing.  You can ferment just about any vegetable – so don't be afraid.  The most important thing is to make sure your brine is correct water to salt ratio…keep the vegetables covered in brine…let the jar breathe.
Below is a recommendation of ingredients – but feel free to experiment.   You could grate some turnips in there with the daikon.  Onion or garlic is always good.
INGREDIENTS
1 pound daikon radish, grated (with skin)
1/2 cup chopped cilantro
1 hot pepper diced (take the seeds out if you want a milder hot)
1 cup non-chlorinated water
1 1/2 teaspoons sea salt
Put all ingredients in a quart glass jar .  Cover with brine.  You can put a ziplock bag with a weight of some kind in the jar to keep the vegetables submerged.  Then lightly close with a lid.  It will bubble, so don't put the lid on tight or it might explode!  Let it bubble 4-7 days and then take the weight off and put it in the fridge.  You can taste it along and decide when to quit.
This should keep about 6 months in the fridge.  Use it like relish or pickles – as a side for meat or rice or beans….the options are endless!
Thanks for buying local food from our farm.  Happy eating!
Letty