What would you think if I sang out of tune
Would you stand up and walk out on me?
Lend me your ears and I'll sing you a song
And I'll try not to sing out of key
Oh, I get by with a little help from my friends
Mm, I get high with a little help from my friends
Mm, gonna try with a little help from my friends
-Beatles  (and the Rising Fawn Social club plays an excellent version of this song:)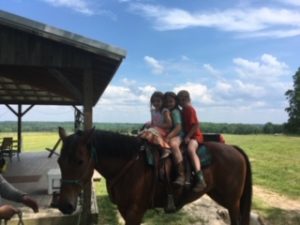 We had a beautiiful weekend of fun and friends.  My parents traveled up from Charlotte and brought their friends Ned and Linda Beth.  Our friends Bruz and Julie, and Mike and Georgia treated us to drinks and home made brick oven pizza.  We hiked, ate, drank and visited.
Then Circle S worked cows this Sunday (vaccinated, ear tags etc.) , and had an amazing crew (well, the usual folks who are willing to come and endure flies, heat, being splashed with cow manure and hope to get a beer and a stale sandwich for their trouble!)  Seriously – what would we do without our friends!  They come work and then make it fun too!  Thank you Thank you!!
Farm News:  Worked cows today.  Every cow got vaccinated with pinkeye vaccination – which hopefully will ward off the condition.  It is a terrible thing to have your herd break out with pinkeye.  We have had several cows through the years go completely blind.  Usually temporary, but getting them to a safe place can be challenging.   However, the vaccine has helped tremendously the last few years.
What's in the bucket: Arugula,  mixed mustard greens, turnip greens, spring onions, green garlic, cilantro, rosemary.
Following – the Washington Post recipe for Mustard Greens with rice and Cilantro.  I think spring onions will be a wonderful substitute for the leeks.
INGREDIENTS
2 tablespoons olive oil

1 large or 2 small leeks, white and light-green parts only, rinsed well then chopped (1 cup)

1/2 cup (uncooked) white rice

1 teaspoon paprika

1 or 2 medium cloves garlic, minced (1 teaspoon)

1 teaspoon ground cumin

3/4 cup vegetable broth (may substitute chicken broth or water)

About 1 pound mustard greens, washed but not dried then chopped (about 8 cups; the liquid clinging to the greens helps to keep the mixture moist)

Leaves from 1 large bunch of cilantro, chopped (1 cup)

1/4 teaspoon salt

Freshly ground black pepper

Yogurt or lemon wedges, for serving (optional)
---
DIRECTIONS
Heat the oil in a large pot over medium heat. Add the chopped leeks and cook for 4 minutes. Add the rice, paprika, garlic and cumin; stir to coat evenly. Cook for 3 minutes, then add the broth and bring it to a boil. Reduce the heat to low, cover and cook for 10 minutes, stirring occasionally, then add the mustard greens and cilantro. The greens may have to be added in batches to fit in the pot; stir with every addition. Cook for 20 to 30 minutes, until the greens are tender, adding more liquid if the mixture begins to stick or seems dry.
Taste the greens, checking for tenderness; if they are not to your liking, cook for 10 minutes. Add the salt; season with pepper to taste.
To serve, top with plain yogurt or a squeeze of fresh lemon, if desired.